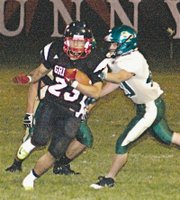 The Sunnyside High School football team ended its 2010 season the same way the Grizzlies started it, by winning.
Sunnyside went back and forth this past Friday with Shadle Park from the Greater Spokane League but managed to come out on top 27-21 in a home game at Clem Senn Field.
"It was nice to get a couple of wins to finish up the season," Sunnyside Coach Mark Marro said. "We feel like it's a good way to end the season."
The Grizzlies finished the season with a two-game winning streak, which brought Sunnyside's overall record to 4-6.
Along with the win Sunnyside High quarterback Andrew Daley broke a decades-old completion percentage record set by Scott Linehan. Daley completed 18-of-22 passes (82 percent) on Friday, beating Linehan's mark of 18-for-23.
It's been a pretty good season for Daley, who is a senior this year. He broke the record for passing attempts in a game with 39 against the Pasco Bulldogs. He threw for 1,606 yards this year and has 3,058 yards in his career at Sunnyside. Linehan finished his career at Sunnyside with 3,239 passing yards.
Marro added that Daley shared quarterback responsibilities his sophomore year, which limited his touches.
But with all the good things Daley has done this season personally, it would have tasted bitter without this past Friday's win.
Shadle Park scored on their first possession of the game when Levi McBournie threw a 28-yard touchdown pass to Brandon Atkinson.
Marro said Atkinson was a player his team didn't really match up that well against. All three of Shadle Park's touchdowns would come from the McBournie/Atkinson tandem.
Marro said his team responded immediately after Shadle Park scored. The Grizzlies marched down the field and the drive was capped off with a one-yard touchdown run by Steven Monterey. He also kicked the extra point.
Before the first quarter was over Sunnyside would score again, but after a missed extra point attempt, would lead only 13-7.
In the second quarter of play McBournie hooked up with Atkinson again for a 13-yard reception and a score. With the touchdown Shadle Park led 14-13.
The Grizzlies would score twice in the third quarter. Daley hooked up with Joseph Contreras for a three-yard score and then with Rafael Salmeron for a 34-yard touchdown. Heading into the fourth quarter Sunnyside led 27-14.
McBournie and Atkinson again hooked up in the fourth quarter for a touchdown and despite two Sunnyside fumbles in the final period, the Grizzly defense came up big and stopped every Shadle Park attack after that.
Daley finished the game with 189 yards and three touchdowns. Monterey added 111 yards rushing and a touchdown on 22 carries.
"Steven ran the ball exceptionally well," Marro said. "The yards he gained were hard yards."
Salmeron led all Sunnyside receivers with 99 yards on eight receptions and two touchdowns.
McBournie led Shadle Park with 271 yards and three touchdowns. He completed 25-of-39 passes. Marro said McBournie is the GSL's leading passer this year.
Atkinson hauled in 10 catches for 123 yards and three touchdowns. The only Shadle Park player that had any rushes was McBournie. He rushed five times for 35 yards.
Marro also pointed out the defensive play of Adam Peters, who he said played well.
"I'm very proud of my seniors," Marro said. "They finished off the season well."