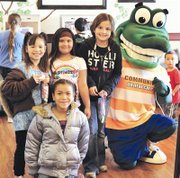 The new mascot for Community Dental, Chomp, is making his rounds and spreading his message with children in the Yakima Valley.
Chomp is no ordinary alligator - with his friendly personality, his love of high-fives and a desire to see clean, healthy teeth, Chomp is quite the sight to see.
"Chomp away tooth decay" is his motto and his mission is to promote healthy living and eating. But Chomp is especially passionate about keeping teeth healthy and clean through good dental practices and regular visits to the dentist.
With his first official outing at Outlook Elementary's Halloween Carnival, Chomp is ready to get to know the children in his community.
"Kids love to have their pictures taken with Chomp," Dr. Kent Copeland said.
But more importantly, Chomp can be a useful tool for getting children excited about dental hygiene.
Copeland added, "Chomp can break down barriers about going to the dentist that regular adults can't."
Community Dental was started in 2001 on Lincoln Avenue. Its goal was to provide dental services to children in the Sunnyside area. With its new enlarged facility, new dentists and staff, and now Chomp, Community Dental provides families with a kid-friendly environment.
Chomp is the result of seven months of planning by the staff and families of Community Dental. He was designed by Erin Martin, the wife of Dr. Brent Martin, and has been interacting with patients since late October.
The staff at Community Dental hope that Chomp will help patients in the office leave with a good experience and help break down the negative stigma associated with dentist offices.
"We feel good when we can help children out of painful dental conditions," said Dr. Martin, "and we feel especially good to be able to help children prevent those painful situations with good dental service and education."
Chomp will help with that education. He will be making appearances in classrooms and at community events. This December, he will make his parade debut during the Lighted Farm Implement Parade on Saturday, Dec. 4, in Sunnyside.
Classrooms or events that would like to see Chomp make an appearance are encouraged to contact Community Dental.
"There are many children out in our community that could greatly benefit from professional dental care," Martin continued. "For those families worried about expenses, we accept the Medicaid Provider One Card, most insurance and other financial arrangements are available. We can work with everyone."