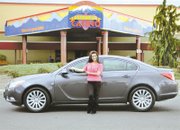 When Janie Anciso entered into a drawing for a 2011 Buick Regal CXL at Legends Casino in Toppenish, she did not believe she would win. After all, there had been a barrel full of entries, Anciso said.
But Anciso did win. Her entry was pulled out and her name read aloud...well, sort of.
"When they called my name, they pronounced the last name wrong," Anciso said.
Thinking she had lost, Anciso waited for the winner to step forward because if they did not claim their prize in five minutes, a new winner would be drawn.
After two minutes passed, another person stepped forward to announce that there were three minutes left for "Janie Anciso" to claim the car. This time, the name was pronounced correctly.
But Anciso was so surprised by hearing her name she says she fell to the ground. Not only from shock, but from the weight of her Halloween costume - she was dressed as the Easter Bunny.
Her daughter, Shadie Jane Anciso, and husband, Ray Anciso, helped her up and removed the giant bunny head so that Anciso could see. By the time she arrived to claim the car, Anciso was only a minute away from losing her claim to the prize.
But the Buick is hers now and she could not be more stunned, or pleased, by the surprising win.
Anciso recalls telling her daughter, "Never, in my life, am I going to win, but whoever wins, I hope it's someone who is in need."
But Anciso was in need and shes views the car as an answer to her prayers.
Anciso is self-employed caring for senior citizens and she is deeply passionate about her job. For years she had been driving around a 1998 Firebird; a car hardly equipped for transporting senior citizens. Before winning the car, Anciso had been looking to get rid of the firebird and purchase a van.
Because of Anciso's experience taking care of her late mother, Paula Garza, Anciso is confident the car is a gift to help her spread the love and care she had given to her mother toward the end of her life.
"She gave me so much love as a child and I'll return that love...to everyone else."
But Anciso has not eagerly jumped into her new vehicle. The car is extremely modern and equipped with several new features, such as a GPS, seat warmer and XM Satellite Radio, that Anciso is being cautious before she drives it.
"I want to learn everything about it before I jump in it."