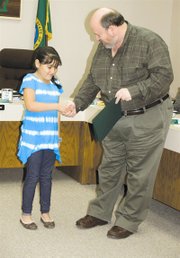 GRANDVIEW - After two executive sessions last night, Tuesday, the Grandview City Council tabbed the Yakima law firm of Menke Jackson to handle the city's day-to-day legal affairs.
Grandview is updating its legal representation because long-time city attorney Jack Maxwell recently retired.
Two weeks ago the city inked a contract with the Yakima County Prosecutor's office to handle court prosecution at a cost of $70,000 per year.
Last night the city council considered three applications for general legal services. Mayor Norm Childress said this morning that Menke Jackson was selected because it offered the city a flat fee of $3,500 per month rather than an hourly rate.
"That was attractive to us," Childress said. "For budget purposes it's much easier because we know in advance how much it will cost."
Childress said there are still some "finer points" to work out in drawing up a contract between Grandview and Menke Jackson. He expects that to take place in time for the city council to approve the contract at the next city council meeting on Tuesday, Nov. 23.
"All the firms that submitted were very good," Childress said. "What put them (Menke Jackson) over the top was their proposal for a flat fee."
As the city's legal representation, Menke Jackson will have responsibilities that include attending city council meetings, preparing legal documents such as ordinances and handling land use questions.
Tony Menke is the firm's senior partner and will work directly with Grandview. He said the monthly fee does not cover litigation, in which his firm would charge an hourly rate.
Menke Jackson also handles legal affairs for the city of Sunnyside.
In May, the Sunnyside City Council inked a deal that calls for the city to pay Menke Jackson a flat fee of $12,000 per month for general legal services.
Menke said the reason for the big difference in the fees is that Grandview is being charged for 18 to 20 hours of work per month, based on the city's own estimates of how often it will need legal services.
"We will be tracking that so we can have positive dialogue with the city," Menke said of the hours it is contracted to work with Grandview. "If it's more than that, obviously down the road we'll need to revisit the contract."
By contrast, Menke said Sunnyside needs much more legal work done, and that accounts for why Sunnyside pays nearly four times more than Grandview's contract calls for.
"Sunnyside is a much bigger entity," he said. "Almost weekly there are matters we have to address that are of a legal nature. It's much more significant than the 18 to 20 hours a month that Grandview has indicated."