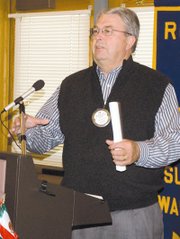 The Sunnyside Noon Rotary Club this past Monday received an important reminder of why Rotary International's campaign to eradicate polio is so important.
Viewing a video brought by club member Jim Trull titled The Final Inch, Rotarians watched the efforts in India to eradicate polio.
According to the video, a polio vaccine has been around for the past 50 years, but the disease still runs rampant in some countries. In 1998 the World Health Organization vowed to eradicate polio and every country in the world signed on to the campaign.
Children five years of age and under are most vulnerable to the disease.
The video highlighted a Muslim woman in the state of Ultar Pradish in India as she went from door-to-door educating and encouraging people to get their children vaccinated. The disease is spread by drinking water contaminated with feces.
The video showed the difficulties medical workers have in trying to convince people to accept the vaccine. Some people just don't trust it.
The video showed an exchange between a volunteer and a Muslim man. The Muslim man didn't trust the vaccine, stating he felt the medicine was America's way of trying to sterilize Muslim youth.
When the volunteer told the man the government of Saudi Arabia recommends people visiting Mecca getting a polio vaccine, the Muslim man was unfazed. He said the United States has everyone in their pockets.
Besides dealing with superstitions, the four million volunteers in India trying to eradicate polio have other difficulties. One is weather. It's hot in India, with some areas averaging 100 degree weather. The polio vaccine must be kept at a temperature below 68 degrees.
Another problem is tracking just who has received the vaccine. Most migrant workers in India move on after three months, which causes problems when trying to keep track of them.
Inroads are being made despite the difficulties. Last year 873 cases of polio were reported in India. That number is much lower in neighboring countries. Pakistan recorded 32 new cases last year and Afghanistan reported 17.