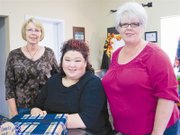 The employees of Sunnyside's Hairworks last year adopted a family for Christmas, but this year one could say they have adopted a unit of the Army National Guard.
Stylist Angela Rodriguez was talking with a client from Grandview one day. That client, Valerie Cantwell, shared with Rodriguez the difficulty of ensuring her husband would have a joyous Christmas while he serves in Afghanistan.
The information sparked an idea and a project came to Rodriguez's mind.
She and her co-workers have set to work on that project. They are collecting donations for gift cards to send to the unit, which is from the Grandview Armory.
"Many of those in the unit are from here in the Lower Valley," said Rodriguez.
She said Hairworks is collecting the monetary donations to be used toward the purchase of gift cards.
Rodriguez selected gift cards as Christmas presents for the troops because she has learned it isn't always easy to ship packages from the U.S. into Afghanistan and the gift cards will allow the troops the ability to order what they need. Merchants like Amazon.com can ship items more easily into the country.
"Some of the soldiers need items like sheets...they can be ordered online," said Rodriguez, stating it is not easy to guess the needs of the soldiers, but they know what they need.
In addition to the gift cards the staff at Hairworks will be sending handmade Christmas cards and snacks that can easily be transported overseas to the soldiers.
"We want to show them the community appreciates them...it's hard enough to be away from family at Christmas," said Rodriguez.
The goal, she noted, is to provide each member of Mr. Cantwell's unit with a gift card. The more money donated to the cause, the more gift cards can be purchased and the greater the denomination amount on the cards can be.
Mrs. Cantwell is in the process of obtaining the number of troops in her husband's unit, so Rodriguez couldn't share a goal. She just hopes the community will be generous.
"It seems a lot of people want to help, they just don't know how...this is one way they can," she said.
The gift cards must be mailed by Wednesday, Dec. 1, to make it to the unit by Christmas. Rodriguez is asking those wishing to donate to the cause to do so by Tuesday, Nov. 30.
They can do so by dropping donations off at Hairworks, located at 1417 East Lincoln Avenue.
Rodriguez can be contacted at the salon (837-2204) for additional information.