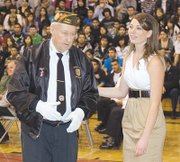 It isn't easy to get 1,600 chatty high school students to sit still and remain quiet, but put them in the right company and Sunnyside High School teens are prepared to show due respect.
More than 30 service men and women were the guests of honor at an assembly held at Sunnyside High School yesterday in recognition of Veterans Day. The entire student body and staff filled the gymnasium and watched in awed silence as a program unfolded before them that featured guest speakers, music and a lesson in duty and sacrifice.
The first guest speaker was SHS student Amber Gomez.
"I want each and every one of you," she said, addressing the veterans, "to understand that I appreciate the gifts you've given me...thank you seems too little for all you have given, but thank you."
Gomez also addressed her class, asking them and the rest of her generation to live by their honored guests' noble example.
Senior Chief Petty Officer John Hulick also spoke to those gathered. Hulick is a staff member at Sunnyside High School and talked to the students about what it means to serve.
Hulick said that he missed his daughter's first birthday and her first steps while on a tour of duty and told the students "vets have served so that you can live in a country of many freedoms."
Taking advantage of those freedoms, he said, was the best way to honor the veterans.
"Make the most of your education," he continued, "and work hard...continue to make this country a light of freedom all over the world."
Sunnyside High School history teacher Pete Marquez also spoke at the assembly. He talked about the veterans in his family, from uncles to his brothers, and why they chose to serve.
He acknowledged that reasons to serve in the military differ but that most veterans "believe in their hearts it was a way to protect the ones they love against those who would do them harm."
But the real honor for students came when Bill Ingram, a Vietnam veteran and the Sunnyside VFW Commander, took the stage. Ingram gave the students two very important history lessons.
Early in the assembly, Ingram told the students the history of Veterans Day - from its early roots in World War I, to its modern celebration in 2010.
Ingram later stepped forward again and told the students the history of Taps - a legacy born from tragedy during the American Civil War.
To end the ceremony, each veteran was honored individually, with his name called out and his service acknowledged. The final name, Betty George, received a standing ovation from students. George, a WWII veteran, was the only female present for the ceremony.
By the time the students were dismissed to second period, there was more than one student with tears in their eyes, but most were merely awed and several made their way to the floor to shake the hands of the veterans and give them their own personal thank you.
This school-wide recognition was a first for Sunnyside High School and the veterans proved impressed by the ceremony.
"I think this is one of the best ones I've been to," said Kenneth Kearney, a WWII veteran.