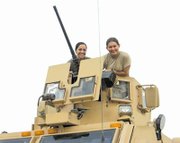 Call it good fortune or a higher power looking out for her...whatever the case, Staff Sgt. Leyla Oxford is grateful she never encountered an IED (improvised explosive device) or insurgents while twice deployed as convoy security in Iraq.
Oxford joined the Washington Army National Guard in 2001, knowing there would be a chance of deployment. It was just a couple of months after Al Qaeda terrorists attacked the World Trade Center and the Pentagon.
The attacks on 9-11, however, did not factor into her decision to enlist. Instead, the then senior in high school was looking for something "different." She was a senior at Grandview High School and did not know what she wanted to do after graduating.
"I felt the National Guard would be a good stepping stone toward deciding my future career," said Oxford.
Her first deployment began in 2005. She was assigned to the 792nd Chemical Company Escort Platoon in Baghdad. She served as convoy security in Baghdad City and the airport, as her platoon was assigned military police duties.
"I was in charge of security missions on a truck, and I was in charge of two others (soldiers)," said Oxford.
She said the trio's duties included protecting trucks transporting supplies in and out of the Baghdad Airport. The trucks traveled to the "green zone" and as security detail, it was her job to stay on the alert for IEDs and insurgents wishing to harm the U.S. efforts in Iraq.
"Every now and then, we were tasked to serve as tower guards," Oxford said, stating she counts herself as fortunate for not experiencing any close calls during her time there.
"It was intense because we never knew what would happen on the road. Because I was a team leader, I had to worry about my team and the equipment more than my personal safety," she said, adding there was always a risk.
Conditions in Iraq, said Oxford, were a far contrast from life in the Yakima Valley. She said water was a necessity as the troops consumed a lot of it. It was sandy and hot most months of the year, but winter in Iraq was extremely cold. "During the rainy season it was very muddy and it was easy to get stuck," she said.
To provide a better understanding of how dirty it is in Iraq, she said, "There were months on end when I always had dirt in my nose...blowing our noses could be quite disgusting."
That deployment lasted into 2007, 15 months of which were in-country.
Oxford returned to the U.S. for about a year before being called back into duty. That deployment was more dangerous, but for a shorter time stint.
From 2008-09, Oxford served with the 81st Brigade Hotel Company 1-161 Infantry. She said it was an unusual deployment because women served in the infantry and it was a fairly new concept for her.
"It was more intense," she said, stating she was again tasked to convoy missions. The biggest difference is the convoys traveled throughout the country of Iraq.
"We were on the road more," said Oxford.
She said the assignment required constant vigilance and the group was always on high alert, moving supplies from base to base on a regular basis.
"Sometimes we traveled through high-threat areas and there wasn't any room for complacency," Oxford said, stating there were trips that consisted of eight hours of being on her toes, ready for any contingency.
"But, I was able to see much more of the country," she said, trying to draw out a positive from the experience.
When asked if she had the opportunity to interact with Iraqis, Oxford said she primarily had opportunities to communicate with Iraqi soldiers at the shooting range.
She said it wasn't easy to communicate verbally because of the language barrier, but they soon learned to communicate through hand gestures.
Oxford said the culture was intriguing and she tried several items from the traditional cuisine. "I really enjoyed the food...they eat a lot of lamb and rice, but I particularly enjoyed the candied dates," she said, stating the experiences she had made her appreciate the U.S. more.
"It's a third world country," she stated.
The two deployments, said Oxford, contrasted from one another in many ways. She said the technological advances in equipment was one difference she noticed. She said it was also more obvious there was an American presence in Iraq during the second deployment.
"Bases were well-established," she said.
As to whether or not she will be once again deployed, Oxford doesn't know. She said she has two more years to serve and there is always a possibility she will be sent to Afghanistan.
For now, she is happy to have completed her college education. She recently earned a degree in social sciences and credits the National Guard for providing her that opportunity. Her service has provided her a number of skills she believes will benefit her throughout life, including leadership and communication skills.
"I am just happy we didn't experience anything scary (while I was in Iraq)," Oxford said.
- Jennie McGhan can be contacted at 509-837-4500, or email JMcGhan@DailySunNews.com