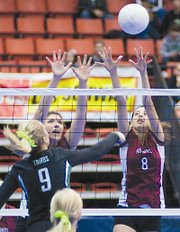 KENNEWICK - The Grandview Lady Greyhounds' volleyball team rallied from a 2-1 deficit to earn a 3-2 win over Tumwater in the opening round this morning, Friday, of the 2A State volleyball tourney.
"The girls just did a good job, they played hard," Grandview Coach John LaFever said of his team's rally this morning.
All of the 8 a.m. first round matches this morning at Kennewick's Toyota Center were decided by 3-0 sweeps, except for Grandview's tilt against Tumwater.
After losing a heartbreaker in the first game, 25-23, Grandview rallied for a 25-16 win before falling 25-20 in game three.
With their backs against the wall, the Lady Greyhounds knotted the match at 2-2 with a convincing 25-15 win in game four.
Grandview then punched its ticket to the State 2A quarterfinals this afternoon with a 15-11 game five victory.
The quarterfinals start at 4:30 p.m. today, with Grandview squaring off against Anacortes.
If the Lady Greyhounds win this afternoon, they advance to play Selah or Fife in tomorrow's 11:30 a.m. semi-final match.
A loss in the quarters would drop Grandview into the consolation semi-finals tomorrow at 1:30 p.m. against Selah or Fife.
If Grandview does play Selah, it would be a re-match between CWAC rivals.
Grandview Coach John LaFever said all of the games in the match against Tumwater this morning were won by the team playing on the eastside of the court.
"We won the toss in the fifth game and took that side," he said. "Sometimes it just happens that way," LaFever said of one side of a court being more favorable than another.
But it wasn't the side of the court Grandview played on that decided the match in the fifth game. It came down to who Grandview had on the court at that time.
After grabbing a big lead to open the fifth and deciding game, Grandview had to hold on as Tumwater pulled to within a point at 12-11.
Nursing a one-point lead, Grandview's Kaitee Eucker and Adriana Ramos teamed up to help the Lady Greyhounds win the final three points to earn the match victory.
While Ramos was patrolling the middle of the court, Eucker delivered her only two kills of the match during that crucial fifth-game run.
No other statistics were available as of press time for this morning's match.
As for Anacortes, Grandview's opponent this afternoon, LaFever says it should be another tough match.
"They won their District and they've only lost one match in dual play this year," he said.