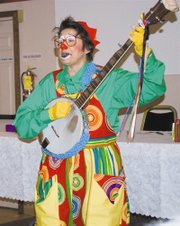 PROSSER - A special presentation by Oochee the Clown was provided to those attending the Lower Valley Christian Women's Connection meeting on Tuesday at the Barn Restaurant in Prosser.
Oochee, aka Maureen Mould, has a Master's degree in social work and she is the founder and executive director of Kaleidoscope Konnections.
The organization is focused on giving others hope, teaching and encouraging youth.
Kaleidoscope Konnections, Oochee told the women gathered, is gearing up to travel to a remote location in Alaska.
"We want to get there before the snow flies," she said, stating the area's isolation has provided an atmosphere where depression is common and the suicide rate is very high.
"We want to give them hope," Oochee said, stating her organization often sends clowns to countries around the world.
The group has worked with Patch Adams in China and has served in the Phillipines, as well as many other countries.
The group, made up of clowns, entertains and educates youngsters about the love of Christ through a variety of activities. "We don't just do bubbles, puppets and music...we take Polaroid photographs," Oochee said, stating the photos often become treasures for the youngsters.
Another program highly focused on by Kaleidoscope Konnections is its Bloomin' Buddies anti-bullying program.
The program is especially important because of federal legislation enacted last April.
That legislation demands schools develop curriculum focused on preventing bullying. With bullying becoming a large national issue across the U.S., being at the root of several school shootings and many recent suicides, it has been recognized as an epidemic across America.
Oochee said the Bloomin' Buddies program is a presentation she and other clowns from Kaleidoscope Konnections provide in schools. The program is accompanied by educational materials and classroom guides.
"Statistics are that 160,000 children miss school each day because of bullying," said Oochee, adding that 85 percent of those youngsters receive no intervention from either adults or peers.
"Bloomin' Buddies talks about building confidence, using kind words and respecting others," she said.
The program contains all the materials schools need to meet the objective of the federal legislation, but sadly, this is the first year in several her organization has not received requests from local schools for presentations.
Oochee attributed the lack of requests to budget cuts and said communities and community members can help by sponsoring a program or parent forum for a school. Her organization, too, could use funding support for its missions or Polaroid film to photograph youngsters.
Kaleidoscope Konnections has a website (www.kaleidoscopekonnections.org) for more information, including contact and donation information.