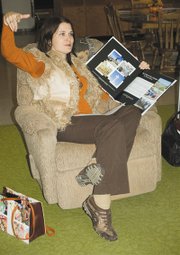 "Living and doing for someone else," is part of the creed of the Jr. Indelook Club in the Lower Yakima Valley.
That quote also describes Judi White of Sunnyside, who this week shared with the Jr. Indelook Club about her experiences in Haiti.
White and husband Tom adopted four children from Haiti, and have made several trips to the country. Most recently, they were in Haiti in May of this year, four months after a devastating earthquake.
She says every trip to Haiti comes with mixed feelings.
On the one hand the terrible conditions there are heart-wrenching and pose health risks.
On the other, she says there is a strong desire to meet the needs of the people there, who remain cheerful despite their circumstances.
"I wanted to understand the people and the culture, what makes them happy when they have so little," White said.
As a result, she and Tom are partnering with Heartline Ministries to help serve the needs of the people in Haiti.
The work ranges from providing medical care - three-day waits for emergency medical care are common in Haiti even for those with serious injuries - to education.
White recalled scenes from her trip earlier this year, of bulldozers being used to recover bodies lost in the rubble following the earthquake and of houses and hospitals collapsing upon themselves due to lack of reliable building materials such as rebar.
White also recalled tent cities with people so packed together there wasn't enough room to lay down.
White says the key for her and Tom in working with Heartline Ministries is building the trust of the Haitian people, even those who live in gang-ridden areas.
"We build their trust by helping their families heal," she says.
Speaking of gangs, White says of the biggest challenges for aid in Haiti is knowing who to give money and assistance to - and who not to give it to due to corruption. "Just because someone is smiling at you doesn't mean they're your friend," White said, quoting a Haitian saying.
The work with Heartline Ministries also includes providing pre-natal care and a small orphanage. White said many new mothers show a lack of affection for their babies due to the high mortality rate.
Other challenges in Haiti include trying to obtain police help. "You have to pick up the police because they don't have cars," White said.
The focus now, she says, is on trying to nip the cholera epidemic that's sweeping through Haiti. "There's no running water to wash your hands," White said.
The visits to Haiti have left a mark on White and her family - and she wouldn't have it any other way.
"It's changed me, and I'm thankful for that," she said.