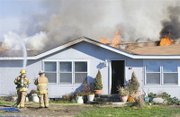 Despite the efforts of three county fire district stations and the Sunnyside Fire Department, a home south of Sunnyside was destroyed by a fire this past Friday.
Firefighters from Yakima County Fire District No. 5 stations 12, 13 and 15, as well as the Sunnyside Fire Department, raced to the 600 block of Snipes Pump Road near Sunnyside at 12:30 p.m. to fight that structure fire.
According to the property owner, Dennis Green, the fire in the double-wide manufactured home started at the kitchen stove.
Green told the Daily Sun News the stove caught fire but he thought he had extinguished the blaze. Unfortunately, the fire traveled up into the hood vent before it could be extinguished.
Firefighters say Green discharged a fire extinguisher into the vent but the fire has already spread to the ceiling.
It took two hours for the 17 firefighters on site to get the fire under control. The house was destroyed and firefighters say the damage is estimated at $140,000.
Two people were at home during the fire, Green and his wife. Green said there were several antiques inside the house, but Green and his wife were able to rescue two family dogs before the fire forced them outside of the house.
One firefighter from Yakima County Fire District No. 5 station 13 was slightly injured during the operation. Yakima County Fire District No. 5 Captain Bo Thomas said it was a minor injury that he believed was a strained or pulled muscle. The firefighter was taken to the hospital as a precaution, but has since been released and is back at work.
The Greens declined assistance from the Red Cross.