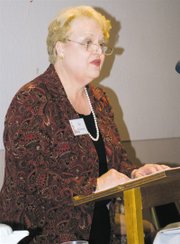 PROSSER - Often people find themselves setting forth an image of themselves they wish others to see.
Pat Patterson of Fredrickson is a clown enthusiast and on Tuesday of last week said the image we project is much like the image a clown presents.
She was the featured speaker at this month's Lower Valley Christian Women's Connection luncheon at the Barn Restaurant in Prosser.
Patterson told the women gathered she has for much of her life chosen the face she puts on each day much like a clown chooses whether to wear a happy or a sad face.
"When I think of a clown, I think of fun and entertainment," she said, stating it was later in life she realized clowns don't always paint on themselves a face of cheer.
Patterson provided a number of examples of the type of clowns, including circus and rodeo clowns.
She said, "My criteria for clowns was they always have a happy face until my father passed away."
It was then that Patterson realized some clowns wear tears.
Likening herself to clowns, Patterson peppered her audience with anecdotes from her childhood, which was described as full of mischief.
As a child, she enjoyed injecting devilment like putting sand in the gas tank of the family car.
As Patterson grew older and approached her wedding date, she added sarcasm to her bag of tricks. "I learned sarcasm is anger dressed in a clown costume," she said.
Using the tool of bitterness she told her mother her father would probably arrive at the impending wedding drunk. The words were biting and effective.
Patterson said her father stopped drinking, but much of his personality remained in tack. "He was a difficult man," she said.
Her family was not grounded in matters of faith, but her grandmother was. Patterson said her grandmother made attempts to help the family learn about Jesus Christ. One of those attempts included a gift to Patterson. It was a Bible that remained closed and gathered dust for many years.
That Bible served as a reminder of God's love when times grew tough for Patterson.
Her mother developed a love of Christ shortly before her father's death. Her mother tried to get Patterson to attend church services and Bible studies, but nothing resonated with her throughout several of those attempts.
When Patterson opened the long-forgotten Bible, she found a passage that spoke to her heart and the transformation began to slowly take place.
"God didn't change my circumstances...He used my circumstances to change me," she said.
There have been many difficulties in Patterson's life, including her husband's battle with a near-fatal illness and her mother's cancer diagnosis that ultimately ended in her death.
Patterson said God provided her the "strength, wisdom and peace" she needed through it all.
"Most of us live behind a clown face...not knowing what portrait of us will be left behind," said Patterson, adding faith can lead to a beautiful portrait despite the pain experienced on the outside.
"God uses all hardship like the artist uses color...maybe you are hiding behind a clown's face, laughing on the outside and crying inside," said Patterson before inviting those in attendance to choose faith as a means of healing the hurts caused by life.