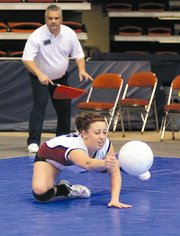 KENNEWICK - After winning its first two matches this past Friday, the Grandview Lady Greyhound volleyball team dropped two matches on Saturday. That netted Grandview a sixth place trophy from the State 2A volleyball tourney held at the Toyota Center.
Grandview closed out play on Friday with a 3-2 quarterfinal victory over Anacortes.
In contrast to the opening round win earlier in the day that required it to rally from a 2-1 deficit, Grandview won the first two games against Anacortes, then had to withstand a late rally. The Lady Greyhounds took the first two games by 25-17, 25-23 scores.
Anacortes then tied the match with 25-18, 25-16 victories in games three and four.
That set the stage for a decisive game five, with the winner assured a State trophy heading into play on Saturday. Grandview trailed at one point 10-4 before regrouping for a 13-5 run to take game five 17-15.
"Anacortes is plenty big, they really did a good job of defending, blocking and digging," said Grandview Coach John LaFever. "Every player that had to make a play for us made a great play. It was a super, exciting match."
The play that won the match and clinched a trophy for Grandview came when Payton Parrish dug a ball up for Mikeala Espinoza, who then set it up for Taylor Hall to deliver the winning point.
That advanced Grandview into the semifinals on Saturday facing familiar foes as the final four were all from the Lady Greyhounds' Regional tourney a week earlier.
"There's been only one (2A) State champion that didn't come from our region. It makes it tough," LaFever said.
Grandview had to play CWAC rival Selah in the semifinals, losing 3-1. The Lady Greyhounds were swept 3-0 by the Vikings during the regular season, and the lone game Grandview won in the State semis was the first one given up by Selah to that point in the State tourney. Selah prevailed 25-21, 24-26, 25-19, 25-19 to send Grandview into the third/sixth place match.
"We played about as well as we could against them, but Selah just outplayed us," LaFever said.
The loss dropped Grandview into the third/sixth place match on Saturday against West Valley of Spokane, which knocked off the Lady Greyhounds 25-19, 25-23, 25-22. It marked the first time Grandview had been swept in this postseason.
Selah lost 3-1 to Pullman in the 2A State championship match later on Saturday.
LaFever said he and his team are happy to have brought home the sixth-place hardware, Grandview's ninth State volleyball trophy in the last 12 years. "It was a great tourney," he said. "We're pretty elated with the performance of the group. It was a team effort."
The team effort resulted in eye-popping numbers up and down the Lady Greyhound line-up: Adriana Ramos had 50 kills, 32 blocks for the four matches combined; Parrish had 32 digs, 12 kills, 26 service points, 25 blocks and 146 assists; Hayley Smasne contributed 22 kills, 21 blocks and 21 service points; Gabby Sauve hustled for 62 digs and 14 service points; Hall knocked down 40 kills, Espinoza provided 29 kills and 12 blocks, Kaitee Eucker hustled for 43 digs, 11 kills, 14 blocks and 21 service points; Lexy Valenzuela helped pace Grandview with 31 digs and 30 service points ("She didn't miss a serve on the first day," LaFever said) and Crystal Navarro contributed 36 digs to go with 28 service points.
LaFever also praised the contributions by his reserve players.
"They don't get a lot of ink, but they're an important part of this season," he said. "They train the girls (starting unit) during the season, teaching the girls how to stay in some tough games."
Because of those practice sessions, LaFever says Grandview has been able to withstand pressure-packed situations, like staying alive in State tourney matches.
"We have had incredible comebacks in five-game matches the last two years," he said.
Like the ones on Friday that clinched yet another piece of hardware for the GHS trophy case.