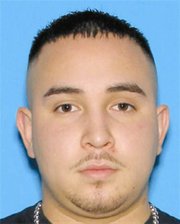 An Outlook man is being sought by Yakima County Sheriff's deputies in connection with a killing that happened last week in the 1700 block of Randle Road south of Sunnyside.
Deputies are looking for 20-year-old Noel Rodriguez and an arrest warrant has been issued, according to the sheriff's office.
The warrant charges Rodriguez with conspiracy to deliver a controlled substance and delivery of a controlled substance with a firearm enhancement.
Rodriguez is a Hispanic male, 5'10" tall and weighs 200 lbs.
Deputies are asking anyone with information concerning Rodriguez's location to call the Yakima County Sheriff's office at 509-574-2500 or Crimestoppers at 800-248-9980.
Last Thursday sheriff's deputies located and impounded a vehicle police believe is connected to last Tuesday's shooting. Deputies have also located another witness to the shooting and have interviewed that witness.
Last Friday, investigators were present at the autopsy of Alfred Prather, who was killed last Tuesday in what the sheriff's office is calling a drug deal gone badly. Prather was 23-years-old and a resident of Yakima.
Currently, a team from the Washington state crime lab is in Yakima assisting with the processing of vehicles that were impounded in connection with last week's shooting.
In other sheriff's news in the Lower Valley, deputies investigated two burglary reports since last Friday.
A burglary was reported in the 500 block of South Lester Road near Outlook at 6:09 p.m. on Sunday. The reporting party noticed the door to the residence kicked in.
Another burglary was reported to sheriff's deputies at 3:01 p.m. last Friday in the 500 block of Swan Road near Sunnyside. The reporting party came home and found the door open. While waiting for deputies to arrive the reporting party witnessed a white Honda exit the property.
Also since last Friday in the Lower Valley deputies have dealt with one animal complaint, one report of loud music, three suspicious people or situations, one traffic incident and one report of trespassing. Deputies also assisted one agency, provided one welfare check and fielded one informational call.