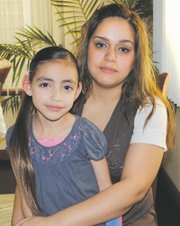 This coming Thursday, 7-year-old Leslie Madrigal will go into a four-hour brain surgery while her parents, Maria Navarro and Luis Madrigal of Sunnyside, wait anxiously at Seattle's Children's Hospital.
When Leslie was first diagnosed with epilepsy earlier this year, her parents made a swift decision about treatment: no surgery.
Navarro says she was unfamiliar with epilepsy before the doctors told her that was what her daughter suffered from.
It began at the end of August 2009. Leslie had just started school when she began to experience strange episodes.
Leslie's seizures took on a unique form, not what Navarro pictured when she thought of seizures. She had an image of someone falling to the floor, convulsing and biting their tongue.
Leslie's seizures were a bit more subdued.
"We thought it was a cramp," Navarro recalled, describing how Leslie's arm and leg stiffened. "She didn't even cry."
For more than seven months, Leslie suffered these strange fits and her parents rushed her to the emergency room and from one doctor to another to find an explanation for what was happening to young Leslie. All the while, the episodes increased, sometimes occurring 10 times during the day and lasting up to 20 seconds.
Meanwhile, Leslie could hardly stay in school a full day. Navarro was being called at work to come pick her up from school and recently Navarro was let go from her job because of it.
"The nurses at the school didn't know what to do - they even had to call 9-1-1 once."
After being referred to Children's Village in Yakima, doctors informed Leslie's family that she suffered from epilepsy. They quickly told the family the two best ways to treat the condition were through medication or surgery.
Immediately, Leslie's parents decided against surgery and Leslie began to take pills in hopes of managing her seizures.
One medication caused little Leslie to lose her appetite and after she lost a significant amount of weight, the doctors switch her to another type of medication. The seizure episodes dropped to three or four a day, but the doctors informed the family that medication was not going to help Leslie live a normal life.
Reluctantly, the family agreed to the brain surgery.
"We're scared to do it," Navarro says, "But we have to try to think what will help Leslie best."
The family will leave for Seattle this Wednesday, where Leslie will go through a series of appointments before her surgery the next day.
Leslie is covered by her father's insurance carrier, but the family is not sure what the insurance will cover. For now, Navarro and Madrigal don't even know where they, and their 5-year-old son Luis, will be staying for Leslie's two to three-week recovery period.
This past weekend, Leslie's aunt, Cyndi Medina, helped organize a benefit dinner for Leslie. It stunned Navarro at how much the community came together to help.
The dinner and silent auction included donations from a long a list of donors, including various gift baskets containing free haircuts, football jerseys, movie tickets and more.
"It makes me feel like people really care," Navarro said, adding that she thanks everyone who turned out to help. "People helped who did not even know me or Leslie."
A benefit dance is currently being planned to help Leslie and her family. Although planning is in the early stages, it's known the dance will be held on Saturday, Dec. 11.
Anyone who would like to learn more about helping Leslie and her family can call Cyndi Medina at 509-270-5036.