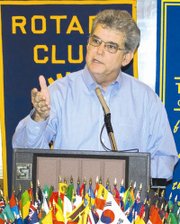 Sunnyside City Manager Mark Gervasi, who's only been on the job for a couple of months, was the featured speaker at the Sunnyside Noon Rotary Club meeting on Monday, and the newest member of city hall said he would like to focus on customer service.
"We are already customer friendly, but we would like to be a little more customer friendly," Gervasi told the Rotarians.
Gervasi was interviewed for the position of city manager here in Sunnyside two years ago after former city manager Bob Stockwell resigned. Another selection was made, but Gervasi said his interest always remained.
"You have a wonderful future here," he said of the city.
Originally from New York, Gervasi told the Rotarians he moved out west and eventually settled in as a school teacher in Salt Lake City. He taught there for eight years.
He went to school and earned his Master's degree in public administration. Later he moved to Oregon where he took positions at various cities in the state before becoming the city manager for the city of Tillamook.
There he oversaw a revitalization of the Tillamook downtown area and also upgraded the sewer facilities.
Currently, Gervasi said, the city of Sunnyside is working on its $56 million biennial budget.
"Things are going well," he said of the process.
Future plans for the city, he said, include a new playground structure at Central Park. Gervasi said the city will also start stocking money away for street projects. He envisions a streetscape project along Sixth Street from Lincoln Avenue to Yakima Valley Highway. He would also like to renovate all of Yakima Valley Highway in the city limits. The goal would be to make the corridor more pedestrian friendly.
Focusing on customer service, Gervasi said he intends to reopen city hall on Fridays. The move isn't cemented, but Gervasi said he would like to see city hall open on Fridays by the first of the year.
"I believe we need to be more customer friendly," he said.
The move could pave the way for the city to hire one more employee at city hall to help with this transition.
Gervasi was asked if the public works department would be open on Fridays, as well. Gervasi didn't know, adding he wasn't sure if the police and fire departments would be open on Fridays, either.
Other projects he has in mind for the city include a remodel of the front counter at city hall. His goal, he said, would be to give citizens easier access.
He said the city plans on doing approximately five miles of overlay on Sunnyside streets. He also wants to plan a retreat with the city council and develop more partnerships in the city.
Other changes include making Bryon Olson, the city's director of finance and administrative services, the deputy city manager. Gervasi also wants the planning department director and human resources coordinator to report directly to him, saying this will keep him better informed.