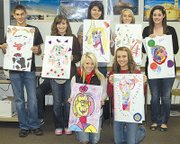 Students in Patricia Newhouse's Spanish classes at Sunnyside Christian High School enjoyed a special treat recently with a visit to the Picasso exhibit at the Seattle Art Museum.
Newhouse said the museum had a program pre-arranged for her students, including a tour guide and a hands-on chance to make Picasso-inspired art.
"It was too good of an opportunity to miss," Newhouse said, noting the Picasso exhibit is in such demand among classrooms that her students couldn't get in until this month.
She said museum staff were prepared from the get-go, with a special place just for Sunnyside Christian students to deposit their backpacks and proceed directly to the exhibit.
The art of Picasso, one of Spain's most well-known native sons, was an opportunity for the SCHS students to get beyond art for art's sake.
"It's one thing to look at a picture, but it's a big difference to see the culture and the language behind it," said Newhouse.
The students agreed.
"It was really cool," said SCHS student Janelle DeGroot. "There was a lot of stuff I've never seen or heard before about what he was thinking, about his place in life."
Seeing Picasso's art firsthand was one thing, but to have an artist train you for an hour is something else.
Newhouse said the students were taught to mimic Picasso in drawing each other's faces from different perspectives. She said they were also encouraged to come up with their own system for creating art with colors and shapes to make the work personal.
The visit had an impact on at least one of the students, Alex Laws, that will last long after high school is over.
"I want to be a modern artist," Laws said of her impressions after seeing Picasso's work.