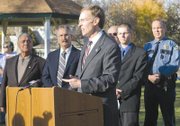 YAKIMA - Several law enforcement officials, lawmakers and community members engaged in the fight against gang violence gathered at Yakima's Miller Park yesterday to hear Washington State Attorney General Rob McKenna speak about gang legislation he will be proposing to legislators.
"There's a tremendous commitment to keeping neighborhoods safe," McKenna said about Yakima and the communities in the Yakima Valley.
About four years ago McKenna approached lawmakers with another gang bill that by some accounts lost a lot of muster as legislators hammered it out in the voting process.
He said there has been a 100 percent rise in gang-related murders in Washington state since 2007, and the gang problem is a growing issue statewide, not just in Yakima County.
"South Seattle, Spokane, Mt. Vernon...they are all experiencing gang violence," said McKenna, adding gang members are very mobile, moving from community to community.
Proposed in the new legislation he wants to introduce are four elements, with prevention and intervention being at the crux.
McKenna wants to create a competitive grant for gang prevention programs. Stating there is a growing need for such programs, he said the grant funding would be in the amount of $10 million.
The funding, he said, will help improve and grow programs for youth, giving them opportunities to stay away from the gangs.
Although, the state budget is tight, McKenna says he believes the money can be found through federal funding and other programs.
He also wants to implement tougher civil enforcement tools, such as taking possession of gang homes. McKenna says California has passed laws of the same nature and those laws have passed constitutional muster.
"I want to increase criminal penalties," said McKenna, stating his goal is to go after gang leaders through the proposed legislation.
"When this has been done in the past, it has been a successful tool," he stated to those gathered.
McKenna wants to impose a minimum one-year of community supervision for all gang-related felonies to keep gang members from re-offending.
"The bill would increase the penalty for gang tagging...after multiple convictions tagging would be considered a class C felony," he told the crowd.
McKenna said the key to combating gang violence is ensuring communities are safe to live in.
"If you do not have a safe community, nothing else matters," he said.
Much of the proposed legislation is the result of meetings McKenna has held with law enforcement officers, city and county leaders, as well as community members active in the fight against gangs.
When questioned about the legislation proposed in 2007, which passed overwhelmingly in the state house of representatives, but failed to make it to the Washington Senate floor, McKenna said he has been working with legislators to educate them regarding gang violence and the benefits of passing legislation to hold gang members accountable.
He was asked about one senator's claim that the previous legislation included racial profiling.
Representative Charles Ross (R-Naches) was among those gathered yesterday and he spoke to those at the park.
"Latinos are the larger victims," he said, stating educating others on the impact of gang crimes is of utmost importance. Therefore, the perception that legislation is intended for the purpose of racial profiling is a misnomer. The proposed laws are actually focused on helping every individual in Washington state communities, he said.
"I recognize one fact...everyone has a desire to put their child on the bus to school and expects that child will live in and learn in a safe environment," Ross said, stating the goal of officials who have been meeting with McKenna is to help in that effort.
Ross said the community can invest in ball fields, playgrounds and other amenities, but "...it's all for naught if we cannot make the community safe."
He feels confident the legislators will act in the fight against gang violence because more and more legislative districts are impacted now than in 2007.
Ross said it is the goal of community members and those fighting against gangs to "disrupt criminal gang activity."
Yakima Mayor Micah Cawley also spoke to the crowd, urging community members to speak up and let the lawmakers know they wish to see the legislation pass. He said, "We're going to continue the fight...we're going to make this legislation pass."
Another speaker at the gathering was Dora Sanchez Trevino, whose son was murdered by a known gang member in 1999.
Her son was not a gang member, but was out walking one night when he was shot by a 16-year-old who had just stolen a vehicle.
"Losing a child, a friend or a loved one is heartbreaking," Trevino said, stating she promised her son she would fight against gangs on his behalf.
She found her son's murderer had a history with law enforcement, but he fled the state and wasn't located until three years after the murder. He was subsequently sentenced to five years in prison because there weren't gang enhancements for crimes related to gang activity.
"For me, it is the gang enhancements that matter," said Trevino, stating the teen who murdered her son would have been in jail for other crimes at the time of the murder had there been gang enhancements on the books.
"We need to work together," she urged the community, stating gangs are a statewide issue and lawmakers need to hear from those directly impacted by gang crimes.