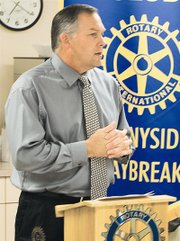 With an aim toward improving graduation rates, the staff and administration at Sunnyside High School is implementing federally funded programs for tutoring, credit retrieval and helping students think about graduation and beyond.
Athletic Director Bill Daley spoke to the Sunnyside Daybreak Rotary Club this morning, Wednesday, and said the school is welcoming help and input from the community to further enhance after-school programs.
Daley said students can apply to receive high school credit for their community and after-school involvement, ranging from sports to work experience.
He noted it's not just about helping kids graduate. Daley said students with good grades can enhance their university and scholarship applications by having community and after school participation.
At the same time students are preparing for their future by working within the community, members of the community can have an impact on the students.
"Have higher expectations for kids and their future," Daley said. "It's the connections that will make a difference. By connecting with people in the community it provides opportunity for the students."
Daley pointed to his own life as an example, noting the impact of one person on his life that changed him from a community college student to an eventual UW graduate.
Community participation in the after-school programs can range from business people visiting the school to do a presentation to partnering with new or existing programs.
Daley said an example of that is the SHS FFA club will help the Sunnyside Ministerial Association's community garden by starting plants at the FFA greenhouse. He says that's a win for the garden and for FFA students in putting their experience to use in helping the community.
The school/community partnership even impacted the Daybreak Rotary presentation, as club member Ted Durfey offered to provide compost for the student greenhouse in growing starts for the community garden.