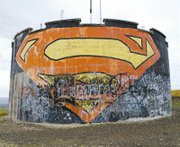 The water tower with the big Superman "S" painted on it, located at Upland Vineyards just outside Sunnyside, has become something of a landmark, according to Steve Newhouse, owner of the property.
He said his son Alex several years ago decided to paint the water tower.
"I'm not really certain why," said the older Newhouse.
His son said it was nearly 20 years ago that he decided on the project. Call it one youngster's way of keeping himself busy or call it the project of a super fan...whatever inspired the younger Newhouse resulted in a long-lived fascination of youngsters in the community.
"Parents call us, asking if their children can visit the water tower," said Alex.
He said he has had to repaint the tower several times in the nearly two decades since the original Superman "S" was brushed onto the tower.
"It has been graffitied several times," Alex noted.
He said it is due for a new coat of paint now and he has plans of freshening up his artwork next summer.
The big "S," however, has come to have a dual meaning for him. Alex said it's still the symbol for his longtime hero, but it is apropos that it symbolizes Sunnyside, as well.
As a native of the community, he takes pride in the double meaning.
"Deep down, though, there is still the kid in me who loves Superman," said the artist.