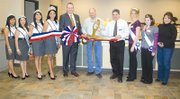 The Sunnyside branch of Yakima National Bank was packed last night as citizens came out in force to welcome the new business to Sunnyside.
Yakima National Bank Vice President Jeff Norem told the visitors and well wishers the grand opening of the bank wouldn't have happened without the help of the Sunnyside community and Yakima National Bank President/CEO Jeff Newgard.
"We are all about you," Newgard said. "We are so pleased to be in a position to grow and expand in the environment. Thank you for accepting us and welcoming us to your town."
Yakima National Bank was formed in 1997 in Yakima by a group of local Yakima people. In the 13 years since it began the bank has grown to include two branches, one in Yakima and one in Selah. There are also now two loan production offices, one in Ellensburg and now one in Sunnyside.
Currently, the loan production office in Sunnyside only provides commercial, small business and agricultural lending. Newgard said he has applied for a branch permit to make Sunnyside a full service branch. He expects the permit to be approved sometime in the first quarter of 2011, with the office becoming a full-service branch sometime in the second quarter.
Then, Newgard said, the Sunnyside branch will be able to open accounts and take deposits.
"We normally go in with a loan production office and start developing relationships and booking loans," Newgard said. "We develop revenue so we can expand into a full-service branch."
Newgard said the expansion will be based on the need here in Sunnyside, but he expects the Sunnyside branch will employ between seven and 10 employees. These new hires will be locals, Newgard said, which is something that is central to their strategic plan.
Norem, who is the sole Yakima National Bank employee in Sunnyside at the present time, said he is excited for the opportunity.
"The thing I love about Yakima National Bank is it's a community bank that's going to serve the community," Norem said. "We've been very well received.
"We're going to concentrate on agricultural lending, that's our niche," he added. "We need to serve that area in our community because the economy in this area is based on agriculture."
Yakima National Bank opened in Sunnyside this past Friday with a soft opening. The hours at the bank are Monday through Friday, from 8 a.m. to 5 p.m.
Corey Russell/Daily Sun News
Helping celebrate the grand opening of Yakima National Bank in Sunnyside last night were (L-R) Miss Sunnyside Princesses Juliet Quiroz, Alex Calderon and Amanda Villarreal, Miss Sunnyside Kiana Ramos, Yakima National Bank President/CEO Jeff Newgard, Yakima National Bank Board Chairman Danny Day, Yakima National Bank Vice President Jeff Norem, Washington State Dairy Ambassador Kristyn Mensonides, Yakima Valley Dairy Ambassador Alternate Emily Hutchins and Sunnyside Chamber of Commerce Director Pam Turner.