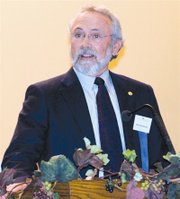 GRANDVIEW - Washington Grape Society members are this week meeting in Grandview and yesterday heard from Washington State Department of Agriculture Director Dan Newhouse.
He detailed for those gathered the responsibilities and challenges his office face in the coming year, stating agriculture is one of the state's primary economic contributors, "neck-in-neck with aerospace."
Washington state farmers produce nearly 300 different crops and about 160,000 people are involved in some aspect of the agricultural industry, said Newhouse.
As a result of the more than $40 billion economic impact of the industry, Newhouse said decisions made by his office greatly impact the entire state of Washington.
"Not many think of agriculture when they think of Washington, particularly in the other Washington...so, we have our job cut out for us," Newhouse said, stating his job entails communicating with policymakers, helping them understand the impact of their decisions.
Newhouse is a farmer himself, and understands the farming industry. He is both a grape and hop grower here in the Sunnyside area.
Because he was at the Washington State Grape Society meeting, he felt it was important to share his familiarity with grapes. He told the group gathered for the meeting more than half of the nation's Concord grapes are grown in Washington.
Wine grapes, too, are making a large impact on the state's economy, and Newhouse lives in a location where some of the state's first vineyards were planted.
With his knowledge of the industry, Newhouse said he understands the importance of marketing the crops.
"We have a bright future," he said, stating he has been working with his staff at the Department of Agriculture to develop ways to market the grape industry in Washington state.
"New technology has improved data sharing," said Newhouse, stating technology has also streamlined several functions of his office.
He said his department is looking at improving delivery to the international market, the institutional market and other areas where agricultural products can be sold.
One-third of Washington's agricultural products are exported and Newhouse, noting the state is export-dependent, has been working together with other officials to market Washington produce in Asia.
Recently, he traveled to China and Vietnam. China, he said, is the state's second largest trade partner and his objective there was to broker a partnership that would increase the export of products like cherries.
Newhouse said China didn't import any Washington state cherries in 2009, but in 2010 Washington exported about $14 million in cherries there.
"The middle class in China is demanding changes in their diet," he said, stating Asia is experiencing economic growth at a faster rate than the U.S.
Because of the economic growth in Asian countries, Newhouse said there is great potential for the state's agricultural industry.
"Their economics can help us recover," said Newhouse.
Because of the economic status here, his department continues to face economic challenges of its own.
Newhouse said he welcomes input from the agricultural industry regarding programs that are of importance and programs that are of little to no benefit.
"We're struggling with the areas where we need to make financial cuts," he said, stating his department competes for dollars with social programs and education.
"In the next legislative session there will be opportunities for lawmakers to hear from those affected by decisions made in Olympia," said Newhouse, urging those at the Grape Society meeting to get involved and to speak out regarding the impact of decisions made by legislators.