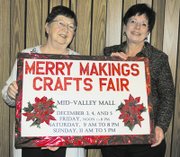 The 27th annual Merry Makings Crafts Fair is fast approaching and the chance to pick up some wonderfully unique gifts for the holidays comes with it.
Forty vendors will stock the Mid-Valley Mall in Sunnyside the weekend of Dec. 3-5 from 10 a.m. to 6 p.m. each day.
In addition, the fair's organizers, the Lower Valley Soroptimist, will be staging a raffle with seven great prizes, including a $500 shopping spree courtesy of the Soroptismist, a wagon filled with toys, a $100 gift card to Big 5 Sporting Goods and gift baskets from Sixth Street Art Gallery in Prosser, Remax Realty in Sunnyside, Darigold and a movie gift basket from Sunnyside Safeway.
Raffle tickets cost $1 each and can be purchased at the Merry Makings Crafts Fair or by calling Linda Craig at 509-839-4430. The drawing will be held at 4 p.m. on Dec. 5. Participants do not need to be present to win.
This Soroptimist fundraising event helps the organization fund a variety of projects and programs that aid residents of the Lower Yakima Valley, including scholarships for high school seniors, the Wiley House and Nuestra Casa.
For more information on the Dec. 3-5 craft fair, contact Nancy Boettcher at 509-528-5107.
More like this story