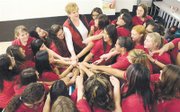 With three girls topping the two-game 300 series plateau, the Kennewick High School girls bowling team surged past the SHS Lady Grizzlies at Sunnyside's Valley Lanes yesterday afternoon.
The top two-game series rolled by a Sunnyside varsity team member was a 260, tossed by junior YaYa Gonzalez.
In Thursday's opener, Kennewick got a pair of 185 and 179 games from Karissa Shiflet and Brittany Blacketter, respectively, as the Lions prevailed by an 807-638 score. Sunnyside's top bowler in the first contest was senior Gaby Farias, who rolled a 150. Rounding out the Lady Grizzly scoring in the opener were a 134 from Larisa Sagarnaga, a 132 from Gonzalez, a 128 from Amanda Villarreal and a 94 from Aba Guerrero.
The Lions, behind Shiflet's 191 and a 188 from Charlotte Johnson, forged a 2-0 lead in yesterday's match by winning game two, 809-564. The individual scores for Sunnyside in the second contest included a team-best 128 from Gonzalez, a 121 from Villarreal, a pair of 110's from Sagarnaga and Guerrero, and a 95 from Farias.
Kennewick completed the 4-0 whitewashing of the Lady Grizzlies by winning both Baker games, 147-114 and 154-123. Baker bowling requires each member of the five-girl squads to alternate taking turns throughout the 10 frames of each game.
Thursday's loss to the Lions leaves the SHS varsity with an 0-3 record on the season.
On a more positive note, the Sunnyside junior varsity bowlers claimed their third consecutive victory by clipping the Kennewick JV, 3-1. Sunnyside's JV bested Eisenhower by the same score earlier this week.
The top bowlers for the Sunnyside junior varsity yesterday were Veronica Alvarez (135-156) and Sandra Ramirez (141-124), both of whom threw better two-game series than anyone on the SHS varsity.
The Sunnyside High School bowling team returns to action next Tuesday at Wenatchee.