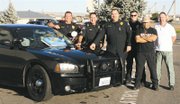 When a police officer performs above and beyond the call of duty the accolades are quick to follow. But how does a department honor a patrol car that repeatedly steps up to the challenge?
With a celebratory cake, of course.
The sergeants of the Sunnyside Police Department honored their personal squad car earlier this month with a cake to celebrate the vehicle's 100,000th mile.
"This car is in service 24 hours a day, 365 days a year," said Sunnyside Police Sgt. John Chumley. "This car never cools down."
Chumley and his colleagues split their time at the police department in two shifts a day. The sergeants' squad car, a Dodge Charger that came to the department in April 2007, averages approximately 200 miles per two shifts. The odometer sits at 100,888 miles.
"That doesn't normally happen in a municipal car," Chumley said. "I'm not a Dodge guy, but this car is remarkable. It's probably the best patrol car I've ever driven."
Police squad cars fall into the category of 'severe service'. Chumley said the only other vehicle that would fall into this category would be a taxi.
With all of the miles the car travels, the city must put two new sets of tires on it each year. The ignition switch has had to be replaced a few times, which Chumley explained is due to the constant turning on and off of the ignition key.
But other than that, the car runs like a dream, even after three years of service.
"It's driven hard," Chumley said. "You got to remember, it's not grandma driving this car."
As hard as the car is driven, Chumley said the handling and the durability of the vehicle is still pristine.
"It still gets up and goes," he said.
So to honor this remarkable vehicle the sergeants bought a cake. Every detail was met. The cake was black and white underneath the frosting. The number 100,000 is prominent on the frosting, as well as sergeant stripes.
The vehicles patrol officers drive usually get some sort of break, Chumley said, but not the sergeants' squad car. This vehicle, Chumley added, is in constant use.
And to him that's a great credit to the department.
"The taxpaying public in Sunnyside is getting their money's worth out of these Dodge Chargers," Chumley promised.