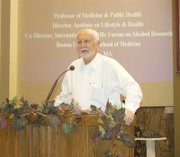 GRANDVIEW - Besides diet and exercise, the keys to good heart health should include a glass of wine - or two - each day.
That's according to Dr. Curtis Ellison from the Boston University School of Medicine, a keynote speaker this past Friday at the Washington State Grape Society's annual meeting in Grandview.
He says U.S. officials have known for four decades that moderate wine consumption can help stave off heart disease.
The problem, Ellison says, is that knowledge was squirreled away because of concerns related to alcohol abuse.
That all changed in the 1980s and early 90s when Ellison saw the evidence himself in France.
The French are known for a diet high in animal fat, being notorious smokers and yet have a heart disease rate far less than the U.S.
According to one study of industrialized countries, France had the second lowest rate of heart disease.
That, in turn, led Ellison to study what he calls the "French Paradox." During the research, he found the daily consumption of wine in that country has helped them lower their risks of heart ailments.
About 20 years ago, the "French Paradox" received national attention in the U.S. when Ellison was interviewed by Morley Safer of 60 Minutes.
"Suddenly I was a wine expert," Ellison laughed, noting other media outlets soon latched on to the information.
He says blood platelets are "less sticky for 24 hours" after a drink of wine. "Less sticky" in turn means the platelets are less likely to form clots or a blockage in the arteries.
The message, Ellison smiled, is to drink a glass of wine "every 24 hours."
He says it actually should be about a glass and a half or two glasses to get the optimum effect.
He also pointed to research in recent years that indicates other ailments like diabetes and alzheimers are less likely in those who consume alcohol each day.
The key, Ellison warns, is not to drink to excess or alcohol will have an adverse effect on health.
He says that all forms of alcohol are helpful for heart health. Wine is the best, but he says beer and even spirits in moderation can have a positive impact on heart health.
Ellison adds that red grape juice can also have benefits for heart health, but much more has to be consumed - about a quart a day.
He also pointed out some potential negative impacts to moderate alcohol consumption, namely a slight increased risk in breast cancer and in colon cancer. Ellison claims these risks are minor and even said the risks of not drinking wine outweigh the risks of drinking.
He did note, however, some instances when people should not consume alcohol, primarily those who are susceptible to alcohol and drug abuse or those who abstain for religious reasons.