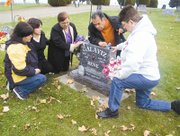 MABTON - Maybe there weren't any children around to steal candy from. Regardless, a thief or thieves found a more sinister form of crime than stealing candy from a child, robbing a grave.
The crime was discovered by Phyllis Aguilar. Her son, Rene Galaviz, was buried in the Mabton cemetery in 2004 after losing a battle with Multiple Sclerosis.
On top of Galaviz's headstone once stood a statue of Jesus with his arms outstretched. It was this statue that thieves took.
Aguilar discovered the crime on Nov. 13, when she went to visit Galaviz for his birthday.
"I started crying," she recalled. "I couldn't believe they could do that."
The crime shocked all members of Galaviz's family. His sister in law, Margaret Shelton, said it was like someone stabbed her in the heart.
"It's unbelievable," said Angie Harris, a sister of Galaviz, about the theft of the statue. "I think someone just liked it. It was a beautiful statue."
Having something stolen from a loved one's grave is traumatic. The family has just one question. Why?
Aguilar said her son's grave has been hit before.
"They've taken almost everything we've brought out here," she said.
Aguilar said American flags have been stolen from Galaviz's grave on the Fourth of July. A plaque with a prayer on it was put on the grave. That was stolen, too. As were solar lights the family bought to keep Galaviz's grave lit up. It's all been stolen.
The family has filed reports with the Mabton Police Department and police there say they have recovered other items that have been stolen from the cemetery. The police have promised the family of Galaviz they will be on the lookout.
Harris has been in contact with the company that made the headstone. The analysis wasn't good. Harris said the company told her it probably wasn't fixable. The statue of Jesus was fixed into place by rebar. The rebar was cut or broken, leaving some still in the headstone.
"We're lucky they didn't break the stone," Harris said of the thieves.
Even so, it's going to be expensive to fix and there is no guarantee the thieves won't be back.
"What's the use in replacing it," Harris said of the $350 statue.
"They'll just take it again," Aguilar added.
In the past flower baskets have been taken, as well as Christmas decorations. They have all been stolen, just like the statue of Jesus Christ. But Aguilar, including her nine children and 80 grandchildren, want this one back.
"We hope they have a conscience," said Lilly Bermudez, another sister of Galaviz.
"Please return it, there will be no questions asked," Aguilar pleads.
"Just drop it off at City Hall...please," added Harris.
If by some miracle the statue is returned to the family, Frank Galaviz, the brother of the deceased, has one thing else to say to the thieves.
"Don't come back!"