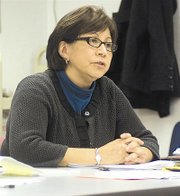 MABTON - The Mabton School District is preparing to implement a grant during the 2010-11 school year that will bring four new staff members on board.
During the Mabton School Board meeting this past, Monday night, Superintendent Minerva Morales shared an update about the graduation grant.
The program will provide $1.1 million annually for the next five years to be shared by the Mabton, Sunnyside and Mt. Adams school districts.
The grant was received in cooperation with the Northwest Community Action Center.
Morales said four new staff members will be added as part of the grant's focus on helping schools improve their graduation rates.
As a result, the four employees will work with middle school and high school students. Morales said the four new hires will be a graduation coach, an academic specialist, an intervention specialist and a program case manager.
Morales said the aim is to not only help students graduate, but to also be more prepared for college and life after high school.
The grant program will be implemented during the current school year, Morales said, with the focus now on gearing up to recruit applicants for the four posts.
Among the step-by-step goals for the graduation grant are:
- a 10 percent increase each year in the graduation rate, starting in August 2011.
- Establishing by the end of this year a "dropout early warning and intervention system" to target at-risk middle and high school students.
- To have 40 dropout students re-enter high school each year starting in September 2011.
- To have 98 percent of students in the previous eighth grade class enroll in ninth grade starting with the 2011-12 school year.
While the district is excited at being able to hire four new staff members to help with these goals - at no cost to Mabton schools - Morales had some not so good news for the board last night.
While in Olympia recently for a meeting involving school superintendents, Morales said state officials noted 6.3 percent across the board budget cuts will likely need to be increased by 4.5 percent. All of which means the state will be looking to budget cuts totaling nearly 11 percent.
Morales told the board this news means the state will cut even more funding from school districts.
"We're going to be challenged," she said.