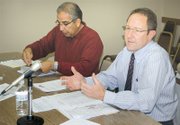 GRANDVIEW - Residents in this city who live on portions of Munson Lane, Nicka Street, Apache Drive, South Division Street and Broadview Drive may have an additional reason to be grateful this Thanksgiving.
That's because their neighborhoods are proposed to be the first to receive street repairs from a $20 car tab fee the Grandview City Council is considering.
Last night, Tuesday, council met in a study session to review the fee idea and a priority list of projects.
City Administrator Cus Arteaga and engineer Ted Pooler presented priorities based on the condition of the street surface.
Pooler told council the ideal proposal is to chip seal roadways that aren't in good shape already or that aren't in such bad shape they need to be gutted and rebuilt.
Chip sealing simply presses a layer of gravel into freshly-poured asphalt to protect the road surface.
Pooler said the previously mentioned streets are listed as a potential top priority because those neighborhoods have not had road maintenance in quite a few years.
Of course, there's nothing that says the money has to be used for road maintenance.
Pooler praised the flexibility of the fund that also allows it to be saved up and designated for a specific project or used as a match for grant money.
Grandview anticipates receiving about $150,000 each year from a $20 fee to be assessed each year on all vehicles registered in the city.
Council hasn't taken final action on a tab fee, but city leaders have expressed support for the concept.
Mayor Norm Childress reminded council last night that although the county has pledged to not assess the $20 fee, if the make-up of the current county commissioners were to change then the fee might be in play again.
If Yakima County were to impose a $20 car tab fee before Grandview does, then all county residents would pay the fee. The money would be distributed on an application basis instead of going back to the city that collected it.
Childress called it "picking our poison," noting by imposing the fee now the city ensures that all the car tab receipts benefit city roads.
Before the city council can implement the fee, it must form a transportation benefit district.
Pooler noted Prosser has already implemented a district and advised council it may take awhile to receive funds. He said there have been some issues with addresses in Prosser and that Grandview would have to wait six months before it collects the fee.
He also advised council to identify road maintenance as the focus of the transportation benefit district. That way the $20 fee can be levied indefinitely. Otherwise, if a specific project is listed as the focus then the fee goes away when the project is completed.
The only council member to express concern about the fee was Councilman Mike Bren.
He said given the current economic climate that perhaps council should look at having the fee assessed for a limited period of time, such as five years. Bren said public approval of the fee, which council can assess without a public vote, might improve if people see there's a point where the $20 fee ends.
Bren cautioned against the mindset of forming a transportation benefit district "just because the county might form one."
Childress fired back that it's a matter of "pay me now or pay me later."
Regarding the $20 fee, Bren replied, "I know you have the accelerator on, but I'm going to have the brake on."
Mayor pro tem Pam Horner added her support for the fee, noting it only represents a cost of $1.80 per month for each vehicle
Councilman Jesse Palacios added that road improvements paid for through the fee will "protect property values."
Council didn't reach a decision about the $20 tab fee last night, and indicated there will likely be another workshop to continue the discussion.
John Fannin/Daily Sun News