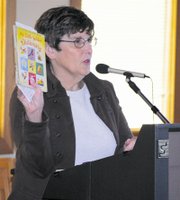 There is something almost universal about Little Golden Books. They have been engrained into the formative years of so many generations it is almost impossible to imagine a time when these American classics weren't childhood treasures.
Grandview's Gail Boose brought the history of Little Golden Books to the Nouvella Club recently, and revealed a history few knew existed.
It is easy to call Little Golden Books timeless, but these childhood staples were first published in 1942. The original 12 stories, including Little Golden Book's bestselling story The Poky Little Puppy, were printed with quality and cost in mind.
Boose revealed that Little Golden Books made books available and affordable for children. Starting at 25¢ in 1942, Little Golden Books can now be purchased for $2.99.
Another unique feature of the early Little Golden Books was the fact that they included dust jackets. On the inside of these dust jackets, publishers would print a little story that involved getting war stamps and buying bonds to support the American war effort during World War II.
Some features of the Little Golden Books have stayed the same, but Boose revealed that much of the design has changed over the years, including the books' spine. At one point, the books featured a blue spine. Time has seen an array of colors and even a Mickey Mouse inspired spine, before the books received their current gold and black spine design.
Boose also took the time to familiarize the Nouvella Club with some of Little Golden Books' early illustrators.
The Poky Little Puppy's illustrator, Swedish born Gustaf Tenggren, had actually worked with Walt Disney and did preliminary drawings for Snow White and the Seven Dwarves (1937) before leaving the company.
Tenggren illustrated 19 Little Golden Books.
Boose also discussed Tibor Gergely, who fled Hungary in 1939 before the annexation by Nazi Germany. Gergely settled in New York and would illustrate 45 Little Golden Books, including Scuffy the Tugboat and Tootle the Engine.
But it was illustrator Eloise Wilkin whom Boose names as one of her favorites.
"I really, really liked [her] because it brings back memories of what I wore," Boose said. She went on to explain Wilkin's illustrations remain top sellers because of the beautiful and realistic manner she depicted children of the time.
Little Golden Books have countless titles detailing adventures from the Bible to Sesame Street, and plenty of original stories, too. And with so much demand for these tales, Little Golden Books have been printing and reprinting its collection for more than 65 years. The Smithsonian Institute has even included the Little Golden Books collection in their division of cultural history.
The books have become collector's items. The original 12 books can sell for $30, Boose revealed, if they are part of the first printing.
But then again, it may just be worth keeping those prized Little Golden Books and sharing them with a whole new generation.