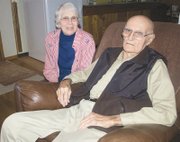 Those closest to Walter George of Sunnyside feared the worst this past summer when he suffered a heart ailment in addition to a growth discovered on one kidney.
"The low point was the first two weeks in August," his wife Betty says. "We just didn't know what would happen. The nursing home had me get power of attorney."
Things got so bad the 86-year-old had to sleep sitting up to keep breathing. The culprit was found to be a heart beating so fast the lungs weren't getting enough oxygen.
After two weeks in a hospital and six weeks at Hillcrest Manor, George finally worked up the strength to not only return home, but to also resume day-to-day activities like driving and meeting his buddies for coffee every morning.
As for the kidney growth, doctors still aren't sure whether or not it's benign. It's not growing or spreading, so for now they're leaving it alone, George says.
All in all, it's been a year of overcoming severe health struggles. George doesn't know exactly how he pulled out of the tailspin.
"Just plain tough, I guess," George smiled.
This year isn't the first time George has beat the odds.
In December 1944 he was among the allied soldiers hunkered down trying to withstand the Battle of the Bulge, a fierce and surprise counterattack by Nazi Germany.
To make matters worse, George says the weather at the Bulge was much like it is now with sub-zero temperatures.
Soldiers took turns covering in straw to retain some of their body heat.
It was brutal weather for one of the most brutal times in World War II.
"It just wasn't my turn," George says.
The same could be said for 2010, as George slowly returns to his daily routine, including responsibilities as post commander for the American Legion in Sunnyside.
His recovery includes having to take six pills every morning after first preparing his stomach with a bowl of oatmeal.
There are parts of the recuperation he enjoys.
"The doctor told me every day after lunch to spend a couple of hours resting in my chair. I liked that prescription," George laughed.
During this time of Thanksgiving, George says he's not only thankful for life - and his easy chair - but for family and friends who stood by him during his struggles in 2010.
He's also thankful for neighbors who look out for him and his farm, even spraying the weeds on his property.
"I'm just fortunate," George said with a choke in his voice.
Betty credits the prayers of family from as far away as Minnesota in helping her husband's recovery.
She anticipates the whole family will gather here in the Lower Valley for a Thanksgiving meal tomorrow, Thursday. All of them are thankful for one thing this year: that Walter George will be sharing it with them.
"He was real sick," Betty said. "We're so thankful he'll be with us this year."