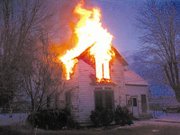 GRANDVIEW - A fire believed to have been started by a heater caused an estimated $96,500 in damage to a Grandview Pavement home yesterday.
The fire was reported just after 4 p.m. and firefighters raced to the 2200 block of Grandview Pavement Road. The two-story home, owned by Joe Martinez but occupied by Jose Luis Ochoa, was found to have a fire in the upstairs bedroom.
Firefighters managed to contain the fire to the upstairs bedroom and a downstairs bedroom.
Yakima County Fire District No. Five reported that the construction of the home, a form called balloon construction which features plenty of wall cavities for a fire to travel through, made the blaze harder to contain.
Grandview, Mabton and Sunnyside fire departments all responded to the scene for a total of 20 firefighters present to battle the fire.
No injuries were reported from the event and residents of the home are being assisted by the Red Cross with housing and clothing.