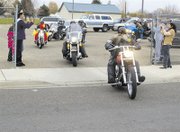 Dressed warmly in heavy leather pants and jackets, with squat, open-faced helmets and beards flying, members of the Lower Valley Riders, an organization based out of Zillah, roared into Sunnyside this past Sunday bringing holiday cheer for 15 families.
The Lower Valley Riders travel around on motorcycles, but according to Cheryl Burnes, secretary and treasurer of the organization, members don't necessarily need to ride motorcycles. Several of them didn't on Sunday, when the group made its way up and down the Lower Yakima Valley delivering holiday meals to families.
Inside the vans were complete Thanksgiving Day dinners, with a little extra. It's all part of the organization's annual Thanksgiving Run.
Burnes explained that the Lower Valley Riders host fundraisers throughout the year where money is raised for holiday meals. The group will host barbecues or make runs into Oregon to go camping. Every year they hold a three-day campout near Toppenish to help raise money.
The group has been doing these holiday runs since 2002 when Burnes and 12 other riders started it.
"It's grown from there," Burnes said.
The Lower Valley Riders adopted 24 families, which include 85 children, throughout the Lower Valley this year. The names are solicited from the Granger and Zillah school districts, as well as from Lower Valley Crisis and Support Services in Sunnyside.
Fifteen of the families were recommended by Lower Valley Crisis and Support Services and the Lower Valley Riders dropped off 15 complete Thanksgiving meals. Other items, such as rice, beans, biscuits and other food staples were delivered as well, just so the families can have something extra after the holidays.
Burnes said the Lower Valley Riders will be back in December, when they deliver Christmas meal packages, complete with toys for the kids, all 85 of them.
Although the motorcycle organization raises the money, Burnes said stores like Safeway and Walmart give discounts on the food.
"Walmart was very helpful this year," she said. "They helped us sort the food and load it."
Several dairymen donated money to the cause as well, she said.
After the Lower Valley Riders roared out of the Lower Valley Crisis and Support Services parking lot to deliver more food in the Yakima Valley, Rosalinda Alvarez and other helpers set to work on the gift baskets.
Alvarez, a domestic violence legal advocate at Lower Valley Crisis and Support Services, said this is the fourth year the Lower Valley Riders have delivered food to families here.
Alvarez and her fellow co-workers delivered the food later that night.