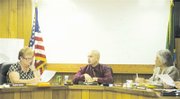 MABTON - The Mabton City Council voted 3-2 last night to adopt a $1.1 million budget for 2011.
The budget is 4 percent less than 2010's budget, which is primarily due to decreases in proposed expenditures for repairs, supplies and other requests that have been taken care of this year, according to Mayor Angel Reyna.
The city is projecting $1,475,032 in revenues but just $1,119,523 in expenditures. If things stay true to projections, the city would have a surplus of $355,509 to put into reserves.
Total cost for law enforcement, fire control and communications is down 17 percent from this year, Reyna said. This is due mostly to police reserves not being paid any longer and decreases in police car repairs.
The budget does not provide for any salary increases at this time, but the city is in negotiations with bargaining units at this time.
Personnel changes in 2011 include the hiring of a public works director and a full-time wastewater operator, as well as an accounting clerk to work half-time at the police department. This will bring city staff up to nine people. Reyna said he plans on having at least five police reserves on the force in 2011.
The part-time accounting clerk in the police department is also supposed to work part-time at city hall doing accounting work. This part of the position was contested by members of the city council.
At last night's meeting Reyna tried one last time to convince the council members opposed to the position to change their minds.
"I highly recommend hiring this position," he said.
He told the council having the extra help will allow the city to move in the direction council wants it to and will allow the city to provide more services.
Councilman Mario Martinez stated that the $13,000 in salary the position would draw from the part-time city hall position represents less than 1 percent of Mabton's 2011 budget.
Council members Sophia Sotelo, Vera Zavala and Oping Hutson have been opposed to the accounting position.
The employee would split their time between the police department and city hall. The three council members opposed to the position are okay with the person working in the police department, but not okay with the person working at city hall.
Sotelo felt so strongly about it she refused to vote to adopt last night's budget. She said she voted no last night because she doesn't agree help is needed at city hall and doesn't want the position included in the 2011 budget.
Hutson voted no last night, as well. She said the reason was she hadn't had a chance to properly review the final budget. She wanted to make sure some of things that needed to be changed, got changed.
Zavala, who is also opposed to the part-time position at city hall, voted to approve the 2011 budget with the position included. Reyna said if council allowed the position to be budgeted for in 2011, he wouldn't hire anyone until he had approval from council.
After the budget was approved Martinez scolded the two council members who voted against the budget.
"We need help at city hall and it's really unfortunate a couple of people are making it into a personal issue," he said. "It's really disturbing when we are so close.
"How can we help ourselves when we're not willing to spend any money on support," he asked.
Martinez said city hall used to have four employees and is now down to two.
"We're asking for two and a half," he said.
Martinez added that the city is not overspending its money and offered up the 2011 budget as an example. He noted that the new budget is 4 percent less than in 2010.
Reyna wants to hire a person to work in both city hall and the police department because if he hires a person just to work in the police department at part-time, the position would still draw full benefits.
For this reason he said it would be more cost effective to hire a person to fill both spots.