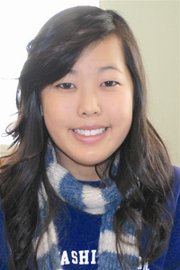 Sunnyside High School senior Christine Kim loves music and is eager to share that love with the Yakima Valley.
This January, Kim will be staging a "Battle of the Bands" at Sunnyside High School for her senior project.
Kim says she has been playing music since she was 6 years old, so when it came to finding a senior project, Kim turned to Bruce Walker, the orchestra teacher at Sunnyside High School. Walker informed her that the school had little money available for the music program. Kim jumped on the opportunity to raise awareness about the importance of music and the chance to raise money for the program.
Currently, Kim is seeking bands and musical acts for the event, which will be held on Friday, Jan. 28, from 7 to 10 p.m. at the Sunnyside High School auditorium.
There is a $20 registration fee for bands but one winner will walk away with a yet-to-be-decided cash prize.
There will be an entrance fee for audience members. Kim estimates it to be around $7 for adults and $5 for students, but warns that the cost may change as the event grows near.
For now, Kim's goal is to attract an eclectic collection of musical acts. She is looking for everything from solo performances to full bands, but she would also like to have a variety of genres represented.
"Music has always been a part of my life," Kim said, "and I hope people will make it a part of theirs."
But Kim's big goal is to raise awareness in the community about how important music is. Along with the entrance fee, she will provide attendees the opportunity to donate to the Sunnyside High School music program.
Bands and artists who would like to participate in the "Battle of the Bands" can contact Kim by e-mailing shsbandbattles@gmail.com. Registration must be in by Dec. 20 to participate.