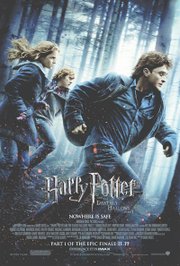 As I walked out of the theater into the cold morning air I found myself reflecting on the movie. I had just watched the newest film in the Harry Potter series.
Harry Potter and the Deathly Hallows: Part 1 was released in theaters last Friday, Nov. 19. It is based on the first half of the seventh and final book in the Harry Potter series by author J.K. Rowling.
The seventh Harry Potter film in the series has a little bit of everything. I like to call it a sad action-drama with just the right amount of comedy.
The movie starts off with a scene showing Harry (Daniel Radcliffe), Ron (Rupert Grint), and Hermione (Emma Watson) leaving their past behind them.
Then we have some comedic moments with the Harry duplicates as Harry's friends and a few other Wizards disguise themselves. There is an exciting "car chase" that follows, with Voldemort and the Death Eaters (the villains) in tow.
Shortly after arriving nearly intact at the Burrow, Ron's family's house, the heroes set out for their adventure. They are on a perilous mission to track down and destroy the Horcruxes, the keys to Voldemort's immortality.
Harry, Ron and Hermione find themselves needing to go in disguise to find one of the Horcruxes. They infiltrate the wizard's government posing as ministry workers. They find themselves in unusual situations pretending to be someone else. This is my favorite scene because it is the most light-hearted part of the movie.
One of the darker scenes of the movie has two of the characters kissing half-naked to illustrate the fear and jealousy of a third character. This is not appropriate for children and was not needed to get the point across.
The forces of evil are prevalent throughout the movie. I was hoping for a somewhat happy ending, but I did not get my wish. Voldemort seems to have the upper hand at the finale. Of course, that's what happens when you end a movie in the middle of a story.
All the actors did a great job portraying their characters. The main three actors did an especially excellent job. They did exceptionally well at showing their emotions.
Overall, this is a great movie. But, I strongly discourage taking your children to this installment in the Harry Potter series. I would recommend going and seeing this movie at a matinee while the kids are in school.