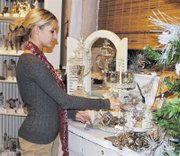 The joy and laughter of the holiday season can often give way to the stress and strain of holiday shopping and bargain hunting.
Millions of American shoppers crawled from their Thanksgiving Day stupor early this morning for Black Friday, that one day a year when stores unanimously cry out, "Four a.m. is not too early to get elbowed in the face for a flat screen television."
But when the chaos clears, and the swelling goes down, millions of Americans return home with the exact... same... gifts...
Ah, it's a cookie cutter Christmas again this year, kids!
But there is a way to walk the line of trendy and unique while still finding great deals and shedding the stress and strain of holiday shopping all at once - leave the department store and visit a shop.
There are many reasons to discard the department stores for locally owned and operated retail shops, the least of which are those all important keywords - locally owned!
These shops usually mean more dedicated and therefore helpful employees, but even more intriguing for shoppers, they mean goods and gifts that are rare and unique and personal.
For example, got a Huskies fan lurking under the roof? How about a Cougar fan? Satisfying their college pride is easy enough by visiting Dairy Fair at 400 Emerald Road. They have a wall dedicated to the rival teams and goods ranging from picnic baskets to baby booties.
OK, so the gift shop connected to Darigold can hardly be called "locally owned," but it is farmer owned and the wide array of farmer oriented gifts speak to that nature. Among the coffee mugs with clever sayings and beautifully crafted wind chimes, one can find several John Deere tractor replicas and lots of farmer pride.
Another trove of specialized gifts can be uncovered at Sunnyside's Melange, located at 2580 East Lincoln Avenue.
This 12-year staple of Sunnyside shopping should be starting its winter-hours (10 a.m. to 6 p.m.) now that the holidays are in full swing.
When it comes to unique gifts, Melange is a one-stop haven for shoppers. There is a little of everything for shoppers here. From wooden signs to tons of beautiful scarves, bags and décor, it could take hours to pick through everything this little store has to offer.
But what makes Melange so appealing is that the store supplies shoppers with goods not typically found in the Yakima Valley.
"We like our community," store proprietor Karen Erickson said, "and we try to give people in the Yakima Valley things you'd find in metropolitan areas."
Melange offers a variety of hard-to-find jewelry and gifts. Included among them is Brighton jewelry. Erikson revealed that Brighton does not typically provide their jewelry to new venues, but Melange impressed the owners so they agreed to let the little Sunnyside store carry their goods.
Among Melange's many treasures are Bellas Balls, hand blown glass globes modeled after Japanese fishing floats. What makes these decorative items so unique is that Melange is the first store in Eastern Washington to carry them.
But one of Melange's hottest items is Vera Bradley's line of colorful and well crafted bags and accessories.
From lunch pails to luggage, the designs of these bags are unique and exceptional. Erikson revealed that Vera Bradley is known to retire certain color combinations or designs, so these bags can become real rare commodities.
Another unique gift opportunity from Melange travels beyond the eyes and into flavor. Various gourmet foods, both from local food artists and from around America, can be obtained for the holidays.
Shoppers are advised to visit "the vault" at Melange for some great deals on fantastic miscellaneous items (ideal for stocking stuffers) and the sale closet where new items are added every day. But for the most update deals seek out Melange on Facebook and get regular updates on each day's biggest deal.
But for deals that cannot be beat, look no further than 305 North Avenue in Sunnyside. That's where shoppers will find the Sunnyside Christian Thrift Store.
From 49¢ candle holders to $10 porcelain dolls, a family can craft a beautiful Christmas from this shop alone. The store has rolled out their best gear for the holiday season, with all kinds of Christmas décor and gifts ready to find a new home.
But the Sunnyside Christian Thrift Store is more than previously owned items. Cassie Dalrymple, one of the store's friendly sales representatives, says that shoppers can often find brand new items at incredible prices.
This is a great place to pick up a Christmas themed Teddy Bear or holiday cookbook. Shoppers never know what they'll find stored along their shelves and new surprises are set out every day, making this store one that requires frequent visits but very little money.
But if picking out gifts seems too daunting, why not try a gift card? Electric Beach at 318 Fifth Street offers a very unique gift card opportunity that can be used on a variety of their goods.
Electric Beach offers shoppers a café, tanning and a unique gift shop, stocked with figurines, jewelry, candles and plenty more to discover. But if shoppers are wavering on a purchase, they can pick up one of Electric Beach's gift cards.
But the newest, and perhaps the most unique store, is The Hatchery. Located at 4541 Sheller Road, The Hatchery is a consignment shop. Local residents put the items they'd like to sell in the shop and The Hatchery keeps 30 percent of the sale price.
Because of this unique style of selling, The Hatchery can offer consumers a wide array of goods. Everything from books to furniture can be found among The Hatchery's many rooms.
"There is something here for everybody," store owner Vonnie Bridgman said, but it may take some time to pick through. With several rooms, a back patio and another building filled with items, one can easily spend the day picking through everything this store has to offer.
The Hatchery's hours of operation are particular. This Saturday (Nov. 27), The Hatchery opens at noon, but will continue with its regular hours, opening at 10 a.m. Thursday through Saturday, next week.
These stores, and many others in the Yakima Valley, work hard to make shopping easier for gift givers. Their friendly employees and helpful attitudes can help shoppers recover from the chaos of Black Friday.