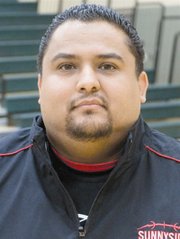 Working with the girls basketball program at Sunnyside High School was one of the reasons Rick Puente came to the Sunnyside School District.
The 1996 SHS grad says he's always had a vision of becoming a head coach and after three years as an assistant to Eric Berg, Puente will take the reins of the Sunnyside High School Lady Grizzlies. And he couldn't be happier.
"I'm very excited about this year's team," he said. "Their coachability and willingness to work is going to allow us to build on the past and grow throughout the season."
Puente, who teaches reading and writing at Sierra Vista Middle School, wants to build on and improve what Berg has been doing for the past three seasons.
He has his work cut out for him. The Lady Grizzlies have gone 5-57 the past three years, including back to back District losses to Hanford in 2009 and 2010. To be fair, the Lady Grizzlies did compete in the brutal CBBN 3A/4A conference. This year, Sunnyside will still have to play 4A teams but only in non-league games.
Puente said he wants to implement some new things, such as being more aggressive on offense and defense. He envisions a more aggressive defense causing turnovers and allowing the offense to transition those into points.
His outlook for this season is to improve, but he also wants to keep up the intensity his team is showing in attitude and dedication.
"The group of girls we have are ready to work on a daily basis," he praised. "They have a very good attitude and a good outlook on what they want to do this season.
"Their confidence is very high, which is good. The coaching staff shares that with the girls."
His team is young but still has experience. Ruby Herrera, Sammie Reyes and Melissa Amaro are all returning varsity players from last year. Amaro played both JV and varsity in the 2009-10 season.
One new face to the varsity team is Adi Palencia, a junior.
"I've been impressed with her work ethic," he said.
All of the younger girls coming up to varsity this year are adding unique characteristics to the team, he added. The younger players give Puente even more confidence the Lady Grizzlies will be playing a more aggressive style of ball this season.
"We're short, but we're quick," Puente said of the team's lack of height. "We're looking for that quickness to be a key attribute to our team."
Sunnyside kicks off the 2010-11 season tonight (Monday) with an appearance at the Grandview jamboree. The Lady Grizzlies' first official game is against Eisenhower on Friday, Dec. 3, in Yakima. Sunnyside will then travel to Prosser for a game on Saturday, Dec. 4.