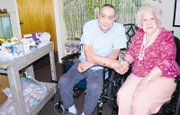 Approximately 900 pounds of food was recently collected by residents, staff and family members of Sunnyside's Hillcrest Manor.
The collection was the result of a competition between the residents in the Paradise Boulevard and Memory Lane halls at the manor.
Tom Gehlen said the manor's activities coordinator, Laura Tolefson, came up with the idea of the competition. Gehlen is the manor's maintenance director, and he and Tolefson wanted to provide the residents an opportunity to donate to food banks in Sunnyside.
The residents, staff and family members connected with the Paradise Boulevard hall won the competition. As a result, the residents of the hall will next Tuesday, Nov. 30, get to eat a meal from Kentucky Fried Chicken.
Dave Ziegler, one of the two residents of the hall, kept track of the food collections from those connected to Paradise Boulevard.
He said the prize wasn't the only inspiration for him to "put the squeeze on family and friends."
Ziegler said it was more about giving back to the community.
Also managing donations for Paradise Boulevard was Dorothy Looney. She said, "There are so many people who need food and we like to feel we are helping...we are told to help whenever we can because people and God help us."
To her the opportunity was one she couldn't pass up. Looney has always felt the need to help her community and the competition at Hillcrest Manor was another way she could fulfill her desire to volunteer.
Paradise Boulevard won the competition, contributing about two-thirds of the food donations that were taken to St. Joseph's Food Bank in Sunnyside.
"Now, we get chicken!" said Ziegler.