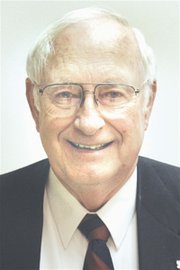 OLYMPIA - Last Friday, members of the Senate Republican Caucus elected Sen. Jim Honeyford of Sunnyside as deputy floor leader. This is the sixth time Honeyford has been elected to the caucus leadership team.
"I am honored my colleagues have selected me to continue serving as deputy floor leader," Honeyford said. "This is a difficult time for the people of Washington, as well as for the Legislature."
Honeyford said the recent news that the state will face another $5.7 billion budget shortfall is sobering, "...and means that we'll have to go to work immediately and make tough decisions to get the state's fiscal house in order.
"I look forward to working with my colleagues to address this budget crisis and chart a promising course for our budget and the hard-working taxpayers of our state," said the Sunnyside lawmaker.
As deputy floor leader, Honeyford will assist the floor leader in his duties, assist the floor leader and whip in coordinating procedural votes with members, and perform other general leadership responsibilities. He will also participate in leadership discussions and decisions and meet regularly with other members of the caucus leadership on key legislative issues.
Honeyford was elected to the state House of Representatives in 1994 and 1996, and to the Senate in 1998, 2002, 2006 and 2010. He has served in past leadership positions of both whip and caucus chair. Over the years Honeyford has served his community not only as a legislator, but also as a police officer, city council member, teacher, coach, librarian and farmer.
The 2011-12 Senate Republican leadership team will include Sen. Mike Hewitt of Walla Walla as leader, Sen. Mark Schoesler of Ritzville as floor leader, Senator-elect Doug Ericksen of Ferndale as whip, Sen. Mike Carrell of Lakewood as deputy leader, Sen. Dan Swecker of Rochester as caucus vice chair and Sen. Jerome Delvin of Richland as deputy whip.
The 2011 legislative session begins Jan. 10.