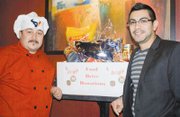 Nearly 200 pounds of non-perishable food items and $300 was donated to St. Joseph's Food Bank last Thursday as a result of Fuego Lounge's Thanksgiving Eve event.
The proprietors of the local eatery and lounge wanted to support the local food bank and at the last minute decided to host the event, asking patrons to pay a first-time cover charge.
"We don't normally have a cover charge," said Tony Garibay, co-owner of the lounge, stating he and his partners Manny and Gabe Gutierrez advertised the event by word of mouth and online.
The patrons, however, were enthusiastic and supported the efforts of Fuego Lounge, giving generous support.
"Going forward it was decided we want to support the community...we want to be known for more than just being a lounge," said Garibay, stating the owners of the establishment want the community to know the business for its quality food and its advocacy of community organizations and events.
He said the owners are considering hosting another event like the one held last Wednesday evening, for Christmas. A cover charge to benefit the food bank will be collected on the night of the event. In the meantime, the food drive is ongoing throughout the month of December.
Community members who want to donate food items don't have to stop in for a bite to eat, but are welcome to do so. Anyone wishing to contribute a non-perishable food item will be provided a certificate good for a free entrée or drink special.
Fuego Lounge is open for lunch beginning at 11 a.m. each day. The establishment closes at 10 p.m. Monday through Wednesday and 2 a.m. Thursday through Sunday.
Fuego Lounge is located at the corner of South 16th Street and Yakima Valley Highway.
Garibay said, "This is our way of giving back."