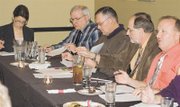 Responsibility, citizenship, respect and fairness are some of the attributes Sunnyside community leaders want to tout in a campaign called "Sunnyside Has Character."
The movement, aimed at renewing civic pride, was unveiled last night, Monday, during a joint meeting of the Sunnyside School Board, Sunnyside City Council and the Port of Sunnyside.
Over dinner at Bon Vino's last night the group of 20 people expressed support for the "Sunnyside Has Character" initiative described by high school principal Chuck Salina.
He said students have agreed to come up with artwork for banners expressing different elements of character like those mentioned above. Salina said the chamber of commerce, ministerial association and downtown businesses have said they would display the banners.
"Sunnyside High School kids are darn good," Salina said. "I chose to work with these kids," the Gonzaga University professor added. "I'm asking for your support."
The banners would be hung from stands created by SHS welding students earlier this year. The stands held flower baskets displayed downtown during this past summer.
Besides banners, the group last night said other elements of the "character" drive could include monthly mayor awards for students, as well as adults.
The idea is to praise and encourage community members who are displaying good character, whether it be at school or in business or other areas of life.
Sunnyside City Councilman Paul Garcia described it as "accentuating the positive."
Sunnyside City Manager Mark Gervasi called "Sunnyside Has Character" a chance to "re-brand" the city's image with a positive, community vision.
All three parties at the table agreed to support the "Character" drive when the proposal is presented to each one individually on a more formal basis.
"I'm long on action and short on meetings," Salina smiled. "If we don't see signs up within the next three months I'll be funding it myself."
Each banner has a cost of about $50.
The three local entities also found harmony on working together in a host of areas, ranging from security cameras to reaching out to the state legislature.
The three groups will next meet on Tuesday, Jan. 11, 2011, at Bon Vino's from 6 to 8 p.m.
Also planned is a breakfast meeting with 15th district legislators on Tuesday, Dec. 14, at 7:30 a.m. at Bon Vino's.