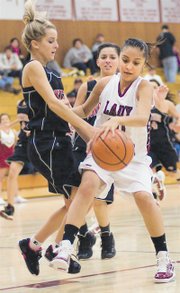 GRANDVIEW - The Grandview Lady Greyhound girls basketball team opened the 2010-11 season last night, Monday, with a home jamboree.
The girls played two shortened, non-regulation games, earning a win over Sunnyside and losing to Prosser,
With the varsity and JV teams each playing a half, Grandview broke out to a 28-8 lead over Sunnyside at the half and never looked back on the way to a 37-15 win.
Grandview Coach Paul Van Pelt was particularly pleased with his JV and varsity teams' defensive efforts, holding Sunnyside to single digits in each quarter and creating 21 turnovers.
Grandview also dominated the glass with a 30-to-17 rebounding advantage.
"We came out and created a lot of pressure on Sunnyside," Van Pelt said. "We took advantage of their mistakes and made a run. We ran the floor really well, getting to out spots and looking up the floor to our open girl."
Payton Parrish and Breanna Lopez led Grandview with eight points each. Lopez added five rebounds, three assists and two steals. Parrish also had three rebounds.
Marissa Caballero poured in seven points for the Lady Greyhounds to go with a team-high three steals.
Grandview's second jamboree game was against CWAC rival Prosser, which saw the visiting Mustangs prevail 38-27.
Grandview actually grabbed an early lead, 9-6 after one quarter. Prosser then went on a 12-4 run to close out the half with an 18-13 lead.
It was all Prosser after the break, as the Mustangs closed out the contest by outscoring Grandview 20-14 in the third and fourth quarters combined.
Van Pelt said his team struggled to play sound defense, which led to scoring opportunities for Prosser.
Grandview was also hampered by the fact Prosser made 24 trips to the free throw line, while the Lady Greyhounds had 13 attempts from the charity stripe.
"The fact that we were a step slow on defense put Prosser on the line a lot, and in turn was the difference in the game," Van Pelt said. "We must continue to work on blocking out and being stronger with the ball. We got careless and were lazy at times."
The coach added the miscues were especially costly against a Prosser team that's expected to be the toast of the CWAC this season.
"There is a reason why Prosser is picked to win the CWAC," he said. "They are a good team, but we did show we can play with them when we want to. We have to be more consistent in what we are doing all the time."
Caballero led Grandview against the Mustangs with six points, followed by four points from Lopez.
Parrish paced the Lady Greyhounds in the paint with five rebounds to go with three points.
Ashley Van Tress and Shyann Guillen each had two steals for Grandview.
The Lady Greyhounds return to action this Saturday when they travel to the SunDome Showdown to play Davis. Tip-off is set for 6:45 p.m.