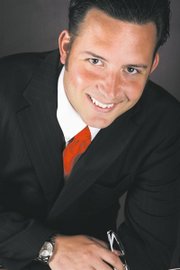 Simon Mahler believes there is one fundamental flaw during tax season and his new Sunnyside business aims to fix it through his new company, IQ Tax.
"People shouldn't have to pay so much money to do something they're required to do," Mahler explains.
Tax season can be a real headache, but Mahler says his new tax company is hoping to ease the strain by providing quality tax service at reasonable prices.
IQ Tax will have three price ranges for tax filers - single, family and business. Mahler says that when people turn to IQ Tax to help with their tax returns, they'll know how much they'll have to pay and it will not exceed $160.
"We don't charge additional fees for other forms," he added.
Mahler and his wife Carrie have a background in mortgage finance. But when the housing industry went south, the Mahler's began to look for a new career.
When it came to joining the tax industry, Mahler knew he was either going to love it or hate it. In that first year, he discovered that he loved it and knew he wanted to open his own office.
The idea for IQ Tax comes from a specific experience with a tax filer, Mahler says. One of his early clients was a struggling single mother, he explained. When he managed to get her the most out of her tax return and at a fair price, she was so relieved and told him that her children had lost their father and she was battling cancer. The money from her return was enough to take her children to Disneyland.
This experience made Mahler think that he could bring great service at affordable prices to everyone.
"We have all the same tools and all the same knowledge of the big three companies," he explained, "We just charge less."
IQ Tax employs 15 local tax professionals and three receptionists and they are all bilingual, Mahler says.
In addition, one of Mahler's business partners, Barbara Culver, is an enrolled tax agent, meaning she has earned the right to represent taxpayers before the Internal Revenue Service. Enrolled agents often know tax laws and regulations better than an attorney, Mahler explained. It is the highest level a person can achieve in the tax industry.
Meanwhile, Mahler was recently elected as an alternate on the Taxpayer Advocacy Panel. The panel, Mahler says, gives people a voice in improving the IRS.
IQ Tax will also be providing residents with self-help centers for people who want to file taxes on their own. For $10 an hour, Mahler says people can visit the centers and prepare their own taxes.
"It's cheaper than buying software," he explains.
But customers will want to keep a close eye on IQ Tax this coming year because Mahler plans to roll out all kinds of promotions.
IQ Tax will have weekly winners for prizes that include gift certificates for food, clothing and entertainment. There will also be one overall winner who will receive a "Taxes for Life" prize, which will provide free IQ Tax preparations for the winner for life.
Mahler also says to keep an eye on IQ Tax this January for a special one day promotion which will feature tax preparation for $40 for everyone.
IQ Tax will open on Jan. 3, 2011 and is located at 2010 Yakima Valley Highway, Suite #2, in Sunnyside, between Little Caesars and Fiesta Foods.