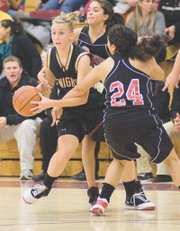 GRANDVIEW - With seven players gone from last year's team, due to graduation, this is truly a rebuilding year for the Sunnyside Christian Lady Knights.
With such young and inexperienced players, Coach Al Smeenk wasn't all that disappointed that his club came away with a 1-1 record from last night's season opening jamboree at Grandview.
The jamboree games pitted each school's JV squads against one another in the opening half, shortened to 10 minutes. The varsity squads then took the floor for the second, 10-minute half.
Sunnyside Christian drew Wapato as its first opponent last night. The two JV squads battled to a 10-10 tie in the opening half. Sophomore Rita Dalrymple led the Lady Knight scoring with four points.
In the second half, junior Alyssa Haak was Sunnyside Christian's leading scorer, who like Dalrymple dropped in four points.
Wapato, however, outscored the Lady Knight varsity by a 13-9 margin to claim the opening game of the jamboree, 23-19.
Smeenk said the Lady Wolves sprung a half-court trap on his club and it resulted in his team coughing up the ball several times. "It took us awhile to get going," said Smeenk, noting his guards played a bit too passively at times.
"With only 10 practices in, there's only so much we can simulate this early in the season," Smeenk said of his team's efforts at breaking the press they saw from Wapato last night.
In the Lady Knights' second jamboree game Monday evening, SCHS's junior varsity jumped out to a 14-8 first half lead on the Sunnyside High School JV. Both, Dalrymple and fellow sophomore Kara den Hoed popped in four points in the opening half.
In second half varsity action, Sunnyside Christian outscored the Lady Grizzlies by a 12-7 margin to account for the final 26-15 score. Analisa Van Oostrum, one of only two seniors for the Lady Knights, connected for a team-high seven points.
The key to besting the Sunnyside varsity proved to be breaking the press, which allowed for several easy penetrations into the lane.
The Sunnyside Christian girls basketball team will play its first regulation-length game of the season this Friday, Dec. 3, at home against Liberty Christian.