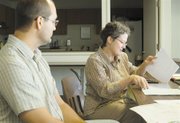 With only three residents in attendance, the Sunnyside Housing Authority held a public hearing this past Friday to discuss future plans to improve the federally-funded housing program.
Ketha Kimbrough is the housing authority's executive director, and she outlined for residents a proposed update for a five-year plan related to capital expenditures.
The expenses are proposed according to the fiscal year, which runs Oct. 1 to Sept. 30. Average expenditures total $250,000 per year for the first four years of the five-year plan.
The big ticket items proposed for the 2010-11 fiscal year include replacing yard and parking lighting at the public housing apartments at 1500 Federal Way.
The 2011-12 year would see a significant update in the form of updated insulation for attics and ductwork at all the public housing units in Sunnyside at a cost of more than $230,000.
For 2012-13, the Sunnyside Housing Authority is proposing to replace all of the floor coverings at apartments in the 1500 Federal Way complex, as well as installing tankless water heaters at public housing sites for families elsewhere in Sunnyside.
The 2013-14 fiscal year would see the housing authority install surveillance systems at family housing units around Sunnyside, as well as replacing old appliances at 1500 Federal Way.
The five-year proposal wraps up with $785,000 in capital expenditures sought for the 2014-15 fiscal year. The big ticket items include $203,000 to upgrade the irrigation systems, $120,000 to replace furnaces and $100,000 for additional surveillance systems.
Kimbrough says the much larger amount sought for the fifth year may not happen, but that those items needed to be on the five-year plan as they will need to be addressed at some point.
Kimbrough said it's possible there may be additional funds for some beautification measures at the housing developments. She noted, though, the federal government minds the bottom line first. "Utility trumps aesthetics," she said.
The next step for the five-year proposal is that it will be presented to the Sunnyside Housing Commission. If approved, the plan will be forwarded to the Housing and Urban Development for federal consideration.
Kimbrough says it will be some time next year before the housing authority knows to what extent the five-year plan will be funded.