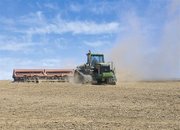 Wheat and hay farmers have had a difficult couple of years, but 2010 is looking up for those who are busy supplying the market with products to help sustain life in this country.
Wheat is used in numerous products like pasta and bread, foods that are considered staples in most American homes.
Hay provides nutrition for livestock, including cattle, goats, sheep and horses. Without hay, many Americans would not have the ability to keep food on the table at an economical price. Beef and milk prices would skyrocket as producers would have to look to other sources of nutrition to keep the livestock healthy.
Sunnyside's Nick Schademan owns Clover Hay Farms. He grows a variety of different types of hay, including alfalfa, blue grass/clover mix, orchard grass/clover mix and an orchard grass/alfalfa mix.
Most of his hay products are sold to the horse market, but feed stores, pellet mills and goat, sheep and cattle farmers all seek a quality product.
Schademan has been farming hay on his property for about a decade and said this year is looking better than was believed this past spring.
Both he and wheat farmer Steve Wheeler of Ice Brothers Farms say it will be an average year. That, however, is encouraging because dry weather in the early spring had some farmers concerned.
It's four-inches of rain in June that Wheeler says made it possible for him to have a sustainable crop.
Because the economy is tight, said Schademan, the prices for wheat and hay won't go through the roof. But, both Australia and Russia took big hits in the wheat market.
"American farmers could be exporting their products to those countries," said Schademan.
Wheeler is not sure exactly why hay prices are dependent on the wheat market, but he, too believes U.S. farmers are seeing better prices at the market because of the hits to Russian and Australian wheat.
His wife's family has been farming wheat, and sometimes barley, in the Rattlesnake Hills for three generations. This year white wheat used in pasta was grown on the farm.
About three years ago, Wheeler said, the crop was going for about $15 a bushel "...which is virtually unheard of." The price dropped to about $4 a bushel and has made its way back to between $6 and $7 a bushel. The market, he said, changes daily, but the prices have been steadily above $6 this year.
Hay, said Schademan, sells by the ton and has been selling for between $150 and $160 per ton this year.
"It's a firm market," he noted, stating the drop in the economy last year clobbered hay farmers.
This year's first cutting, too, affected the market for farmers like Schademan. He said larger farms had crops that were virtually wiped out.
"There's an abundance of rain damaged hay from last spring, but quality hay prices are higher because of the supply," he said, pointing to his 20 acres.
The key to supplying the consumer with a quality product, said Schademan, has been diligence. He said regular watering and tight bales ensure a clean product.
Dryland wheat farmers like Wheeler depend on Mother Nature for their crops. Some wheat carries a higher protein and the protein levels will bring in different market prices.
"There could be a 50 cent difference in the market price because of the proteins," he said, stating the 2010 crop has been his best harvest in three to four years.
Wheat, said Wheeler, is only planted once each year. He was busy getting next year's seed in the ground the first week of September.
Because Ice Brothers Farms is at an elevation of 2,800 feet, everything Wheeler does to ensure a quality crop is dependent on the weather.
"This year turned out well," he said.