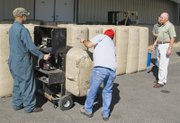 Less quantity, but higher quality; that's the 2010 hop harvest in a nutshell according to Yakima Chief CEO Steve Carpenter.
Carpenter said cool and wet weather in late spring and early summer contributed to a smaller crop this year.
He said a benefit is the 2010 crop is better quality and something of a breather for hop growers and processors after a bumper crop last year. "It makes for a more orderly harvest," Carpenter smiled. "Last year's (harvest) never seemed to end."
The smaller crop is also intentional, as Pacific Northwest growers planted 8,500 fewer acres of hops this year, down 20 percent from the year before.
Taking hops out of the ground is all part of a reality check for producers.
Carpenter said in 2007 European brewers felt there was a hop shortage, a lack of supply to meet demand.
"During the panic and shortage there were some breweries that could not get hops," Carpenter said.
U.S. growers put in more acres of hops to respond to the shortage, and in turn received higher prices.
In the Sunnyside area alone, Carpenter figures about 10,000 additional acres of hops were put in the ground, resulting in other crops like grapes pulled out.
While that was happening, Carpenter said European brewers began installing modified extracting equipment that required fewer hops.
Throw in a global recession and what you have is a classic case of over-supply.
Carpenter said Germany is the biggest competitor for the European hop market. He says German growers are apparently ignoring the over-supply as they are not pulling hops from the field.
That in turn means there should be an abundant inventory of hops for the forseeable future.
"With a lot of hops you can extract the acid and it can sit on the shelf for years," Carpenter said.
With 75 percent of the U.S. hop harvest right here in the Lower Valley, local farmers and producers will especially feel the brunt of the glut.
Carpenter says Sunnyside-based Yakima Chief, as well as many other hop-related businesses in the Lower Valley will have a short-term cushion against reduced market prices.
That's because many hop producers and processors are still working under a contract with breweries that reflected higher prices from the hop shortage a few years ago. But once those existing contracts expire, Carpenter said the next hop contracts will pay less.
That drop is resulting in hop producers becoming more creative as they mind the bottom line.
Yakima Chief, for example, is an international company and is looking to expand its existing presence in Asia. That includes China, where Carpenter plans to visit as a way to increase Yakima Chief's visibility at a trade show there.
"China is one of the rare growth markets in the world for beer products," Carpenter said.
In addition, Yakima Chief has taken steps to experiment with using hop processing equipment on other crops, such as producing grape seed oil.
If successful, it could be a way to utilize the processing plant even during times of low demand for hops.
Growers here will also do their part to lessen the glut of hops, as Carpenter said next year there will probably be another couple of thousand acres pulled out of the ground in the Pacific Northwest.
That means fewer than 30,000 acres of hops will likely be planted next year. If that figure holds, Carpenter estimates it will be the first time in about a decade that hop acreage has dipped that low.
He says the reduction in supply this year and next should eventually lead to stabilization in hop prices.
And that's a reality check hop farmers would look forward to.
"As we get through the recession and inventory, prices should average out," Carpenter said.