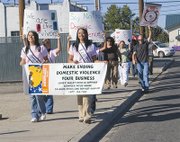 Motorists honked in support of those marching down Sunnyside's South Sixth Street yesterday.
The marchers were shouting, but it wasn't a political rally. It was a march to promote Domestic Violence Awareness Month, and the marchers ended their parade after traversing from Wylie House to Centennial Square and back.
Once the group settled in front of Lower Valley Crisis and Support Services/Wylie House a number of speakers took the mic and began to share their stories of survival and strength.
Joining the group was Sunnyside Mayor Jim Restucci, Deputy Mayor Nick Paulakis and City Manager Mark Gervasi.
Restucci spoke to the crowd while at Centennial Square, telling those gathered he believes domestic violence is a crime everyone should stand against. He said it affects everyone, and he has learned firsthand no segment of the population is immune from the harmful effects of domestic violence.
"As a member of the Army I encountered the issue many times with military families," he stated.
Paulakis, too, took a stance. He said, "Many believe domestic violence is just physical violence, but it's not."
He went on to explain the emotional damage domestic violence causes and said it is important to recognize domestic violence is a problem everyone can work on. He said it is a problem that can be eliminated. It is the community's duty to make efforts to report domestic violence and to become educated about the issue that affects so many, he said.
"No one deserves to be the victim of domestic violence," said Paulakis.
Sharing their stories with those gathered in front of Lower Valley Crisis and Support Services office were Lillian Schuster and Rey Chavez.
Schuster is a survivor. About four years ago her boyfriend nearly killed her. She said he stabbed her with a knife once, and used the weapon to slice her 12 other times. He kicked her numerous times and opened up the back of her skull.
"I was strong enough to escape," she said, telling those gathered she has a son who was 3-years-old at the time and the two fled to the Yakama Tribal Police station.
The perpetrator of the crime against Schuster was quickly apprehended and stood trial for what he did to her.
"I met Mary (Mion) of Lower Valley Crisis Center and she supported me through it all," said Schuster, stating the advocate helped her through the court process and provided her a shoulder to cry on.
Now, Schuster is a corrections officer for the Yakama Nation.
Chavez said his sister was a victim of domestic violence and her courage inspired him to work with those affected by it.
He brought with him yesterday several young men whom he is working with at Sunnyside's Northwest Behavioral Modification Clinic.
"I wanted to give them a first-hand experience of seeing the impact of domestic violence...it doesn't just impact the families, but it impacts society," said Chavez.
His sister was nearly killed by the person committing domestic violence abuse against her.
Chavez said she survived and was able to transform her live, inspiring him and others. She is also involved in educating others about domestic violence.
"She is a survivor," said an emotional Chavez.
Schuster and Chavez were just two of several guest speakers at the event. Each of those speaking at the gathering said they feel it is important to promote domestic violence awareness for healthy families and a healthy community.